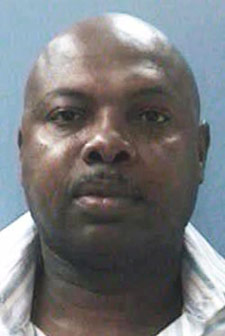 Gordon Reaves Rivers
Two more people within the local LGBT community have been killed since Gays and Lesbians Opposing Violence (GLOV) held its last public meeting in November.
The next meeting is on Feb. 3, and GLOV co-chair Chris Farris is certain that two names will come up during the night's discussion: Anthony Perkins and Gordon Reaves Rivers.
Rivers, a 47-year-old man who lived in Brandywine, Md., was killed Sunday, Jan. 10. Two weeks prior, Sunday, Dec. 27, Anthony Perkins, 29, was found dead, shot inside his car, on the 2900 block of 4th Street SE.
In the Rivers case, officers responded to reports of a shooting, occurring at approximately 5:30 p.m., in the 2600 block of Naylor Street SE. That's roughly two miles from where Perkins was found two weeks earlier, also in Anacostia.
"Upon arrival, officers located an adult male in an unconscious state suffering from apparent multiple gunshot wounds," the Metropolitan Police Department (MPD) announced on its website. "Personnel from DC Fire and Emergency Medical Services Department responded to the scene and transported the victim to an area hospital where he succumbed to his injuries and was subsequently pronounced dead."
In a Jan. 12 e-mail to Christopher Dyer, director of the mayor's Office of LGBT Affairs, Capt. Edward Delgado of the MPD's Special Liaison Branch, which includes the Gay and Lesbian Liaison Unit (GLLU), wrote: "There is no indication at this time that this homicide occurred as a result of a hate crime."
The case is being investigated by MPD's homicide branch. That branch's Commander Daniel Hicks has not responded to a Metro Weekly request for comment.
The MPD has maintained that there is no evidence in either homicide to suggest hate crimes. MPD is currently asking the public for information regarding both homicides, describing both men as members "of the GLBT community."
"The only thing that I know is that there was a shooting and that the victim was of the LGBT community. I don't know anything more than that," Farris says, adding that the lack of information and outreach conducted by MPD within the local LGBT community further demonstrates why the GLLU is not working.
"The communication is coming, but it is not coming as quickly nor comprehensively as it should, or as it has in the past," Farris says of the GLLU's relationship with GLOV. "It just seems to me that the success rate in solving these types of murders would go up significantly if we got the information into the community's hands more quickly."
Detective George Singletary's cell phone number, listed with other contact information on an MPD flier offering a reward of up to $25,000 to anyone with information leading to an arrest in the River's case, is incorrect.
GLOV's Wednesday, Feb. 3, public meeting will be at 7 p.m. at The Center, 1810 14th St. NW. GLOV is a program of The Center, D.C.'s LGBT community center.
Anyone with information about Rivers should call Detective Jed Worrell, 202-645-9618 (desk) or 202-486-1596 (cell); or Detective George Singletary, 202-645-4376 (desk). Anyone with information about Perkins should contact Detective Mike Fulton at 202-497-3470, or Detective John Bolden at 202-422-6818. Those wishing to remain anonymous may text 50411 or call 866-411-TIPS. There is a reward of up to $25,000 for information leading to arrests.