In 2008 Tarell Alvin McCraney's The Brothers Size stomped, beat and snarled its way across the Studio Theatre's stage. It was prose poem brought to life, a bass thump rendered as text, raw emotion transformed into something gripping, visual and so tangible you could almost taste the sweat of the bayou in your mouth.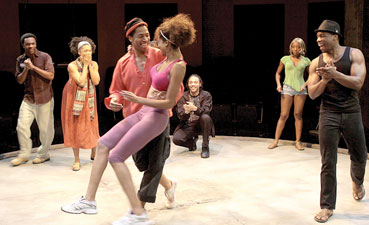 In the Red and Brown Water
The Brothers Size was just one movement in McCraney's "The Brother/Sister Plays" trilogy. Washington audiences now have the opportunity to return to San Pere, the Louisiana town whose citizens are almost entirely governed by either pain or passion, where consequences are as epic as the myths from which its residents drew their first breath and storytelling is as simple but profoundly new as the first word ever spoken. Like its companion The Brothers Size, In the Red and Brown Water is an aggressive work of theater showcasing the playwright's masterful way of manipulating language into sound and sound into language. But where Size was a story of brothers, Water is a sister's tale.
Oya (Raushanah Simmons) is a gifted runner who can, quite literally, go as far as her legs will take her. She has a supportive mother (Denise Diggs) and an offer from the state university. The dusty front porches of San Pere are poised to become the past and not a strangling future.
Oya does not have to be another young single mother. She does not have to be mindful of where her little girl wanders in the projects. She does not have to stand alongside the other women at the clothesline hanging baby things to dry.
She can have something different.
But choices are never that easy. Not in real life and certainly not in plays. There's a mother who needs her, and a good man who loves her, and a man — whose sly smile might as well be a bear trap — who wants her.
And there is also, as real as another character in this fantastic mix of present day and superstitious past, a vision with which to contend.
The impulse is to think of In the Red and Brown Water solely as a hip-hop play. There is, after all, a DJ booth and some gorgeously rendered soundscapes where a single word or sigh is allowed to cascade over music that pulses like a heartbeat.
There's a deftly choreographed physicality to the work, an acknowledgement by director Serge Seiden that this is a play that embraces the excruciating and ephemeral want of desire, the power to be had in a touch that almost happens.
But one must also give tribute to the fearless manner with which McCraney toys with the conventions of traditional theater. For Water the writer has blurred the line between character and storyteller, with individuals speaking their stage directions and inner thoughts. So Simmons might begin a statement by saying: "Oya smiles" or "Oya takes a deep breath." It's a testament to McCraney's skill as a playwright that this particular affectation quickly fades into the reality of the world he's created.
And it's a testament to Simmons that the world is delivered so brightly to life. She is stunning as Oya, playing the young woman with the dignity and gravity the character deserves. It's a memorable performance, the ghost of which will haunt you for days after the final bows are taken.
Equally arresting is Mark Hairston as the young Elegba. A troublemaker and a thief, Elegba's selfish impulsiveness is a counterpoint to Oya's weakening rationality. Hairston is a charmer, boyish one minute and turning on a slow smolder in the next. It's a fantastic character realized through a wonderful performance.
IN THE RED AND BROWN WATER





To Feb. 14
Studio Theatre
1501 14th St. NW
$49-$63
202-332-3300
studiotheatre.org
Hairston and Simmons are joined by a fantastic ensemble that includes Jahi A. Kearse and Yaegel T. Welch as the men after Oya's affections, Diggs as Mama Moja, and Deidra LaWan Starnes as the vibrantly comic Aunt Elegua.
In the Red and Brown Water offers audience members a powerful journey back to McCraney's mythic bayou town. It is not the easiest of travels, but even in its darkest corners there is much beauty to be found.