"You are teaching me a history I never knew I had."
These are the words of the character Doug Wright as written by the playwright Doug Wright as delivered by the actor Andrew Long in Signature Theatre's production of Wright's I Am My Own Wife. And that's just a taste of the identity manipulation that goes on in this wonderfully complicated piece of theater. Long shifts and assumes the identities of some 35 different individuals who occupied some place in the life of Wife's central character, Charlotte von Mahlsdorf.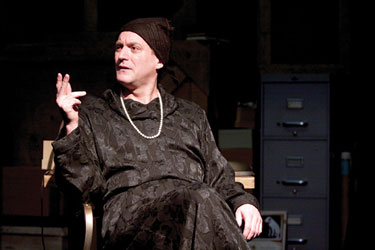 I Am My Own Wife
(Photo by Scott Suchman)
As captured by Wright, the real-life story of von Mahlsdorf seems to have been a near impossibility. Born a biological male but choosing to embrace her gender identity by living as a female, the German von Mahlsdorf survived the Nazis and, later, the crippling oppressiveness of the East German Communist government. Embraced by some as a heroine and denounced by others as a traitor, von Mahlsdorf is a fascinating study and Wife an arresting portrait.
Long takes firm hold of Wright's carefully crafted script to deliver a stunning performance, leaping from person to personality, character to character, with remarkable ease. He adopts accents and postures, swaggers and subtleties to bring each individual vividly into being.
And he does all this while dressed in a simple black housedress and a single strand of pearls. There is nothing to hide behind. No elaborate transformations of set or surface. It is just Long accompanied by some beautifully rendered effects of light and sound.
The work of scenic designer Wilson Chin, lighting designer Colin K. Bills and sound designer Veronika Vorel come together like the well-cast ensemble they are. The designers' work is flawless in its craft and brilliant in its overall effect, supporting the production not by fading into anonymity, but by generously contributing to the realization of a final, wonderfully finished whole.
I Am My Own Wife will certainly teach many a history they never knew they had. They will discover a figure that might have remained hidden to most if it were not for Wright's Pulitzer and Tony Award-winning play. But this is far from a dusty history lesson — it's a mesmerizing and imaginative night at the theater.
I AM MY OWN WIFE





To March 7
Signature Theatre
$47-$71
703-820-9771
signature-theatre.org
Performer Mike Daisey is a dinner-party paradox. Or, that would seem to be the case based on his fantastic new show, The Last Cargo Cult, currently at Woolly Mammoth, and based on the last show he brought, How Theatre Failed America, and the monologue he brought to D.C. before that, And If You See Something Say Something.
Mike Daisey, you see, is knowledgeable, thoughtful and keenly insightful. With Cargo Cult he weaves together the story of his trip to the island of Tanna and the U.S. financial crisis, which – depending on which talking head you're listening to – is or is not over.
And all that would be fine. Daisey is a brilliant storyteller, so it stands to reason that he would be a delightful conversationalist at the table. Someone to spin a vivid yarn about his journey to a remote island to witness the annual arts-centered celebration of a South Pacific cargo cult. (This is not how most people spend their summer vacation.) It would be, like his show, engaging, funny and incredibly thought-provoking.
THE LAST CARGO CULT





To Feb. 7
Woolly Mammoth
$25-$30
202-393-3939
woollymammoth.net
However, Daisey is also a performer whose insights are as prone to inspire discomfort as they do new ideas. His voice swings from a thin reed – like a man trying to tease a small animal out of its hiding place – to a boom with wrecking-ball force. Whether the question is about record profits now being earned by the banks that so desperately "needed" rescue in the not-so-distant past, or getting back onto a tiny prop plane to go from a "tiny rock in the middle of the ocean to a tinier rock in the middle of the ocean," when Mike Daisey shouts, "Are you fucking kidding me?" you feel like you should answer.
The first step, before deciding if you'd like to attempt extending a dinner invitation to the storyteller, memoirist and gonzo journalist, is to go see The Last Cargo Cult. He'll certainly give you a lot to chew on.