When tasked with directing Signature Theatre's I Am My Own Wife, Alan Paul literally threw out the script.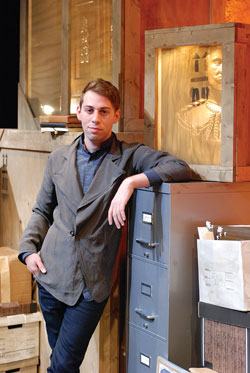 Alan Paul
(Photo by Todd Franson )
"I wanted to free myself completely from doing what was done [before], so I erased the stage directions from the script," says Paul. "I started from a really blank slate."
The end result is a focused production that accentuates the darker elements of Doug Wright's Tony Award/Pultizer Prize-winning play and focuses less on the comedic, sensational aspect of its central character. Living underground in East Berlin, Charlotte von Mahlsdorf was a real-life transvestite who managed to escape both the Nazis and the Stasi. Andrew Long plays Charlotte – and 35 other characters in the one one-man show.
"The kind of actor that normally plays this plays the tranny-granny part of Charlotte really well but sometimes is incapable of the dramatic weight that the role needs, but Andrew has that in spades," says Paul, who has worked with Long on several productions in his day job as resident assistant director at the Shakespeare Theatre. Only 25, Paul is making his "large theater debut" with Wife, after Long selected him with the consent of Signature's artistic director Eric Schaeffer. "Eric has said that doing I Am My Own Wife for an actor is a little like climbing Mount Everest," says Paul. So he thought Long should pick the person to be his guide.
"It's a play that gets your mind spinning," says Paul, "because the central character is a really enigmatic character who appears to be one thing but you find out she's something completely different."
Paul, who grew up in Potomac, Md., thought he was meant to be onstage. Then he directed his first play while completing his theater degree at Northwestern University. "The moment I directed a play, I couldn't get back on the stage," he says. "Everything felt wrong." And all he could do was complain. "They're doing this, this and this wrong. And I thought, 'Oh god, you can't ever act again, you're too bossy."'
I Am My Own Wife runs to March 7 at Signature Theatre, 4200 Campbell Ave., Arlington. The theater will host GLBT Pride Night performances, including post-show receptions, this and next Friday, Jan. 29 and Feb. 5. Tickets are $76. Call 703-820-9771 or visit signature-theatre.org.