When it comes to pivotal years in LGBT history, 1969 — year of the late June riots at the Stonewall Inn gay bar in New York City — overshadows its neighbors.
But 1970 deserves some credit, too. All My Children made its debut Jan. 5. The Boeing 747 started regular service. Diana Ross & The Supremes gave their farewell concert in Las Vegas. The gay-themed Boys in the Band opened in movie theaters March 17. And less than a month prior to that, Feb. 27, 1970, there was another opening, Phase 1. Coincidentally, according to the Rainbow History Project, the first issue of the feminist newspaper off our backs came out the same day.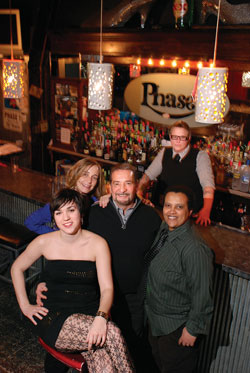 Clockwise from left: Jewel Murray, Amy Hutchinson, Allen Carroll, Angela Lombardi and Senait
(Photo by Todd Franson)
"Chris worked here when it was 9 Chains, a leather gay bar," Allen Carroll says of Chris Jansen, first his lover, later his business partner. "I worked at Jo-Anna's down the street, a lesbian bar."
As Carroll remembers, he and Jansen, along with a straight woman, Delores Plant, who owned and lived in the Barracks Row-neighborhood building at 525 8th St. SE, agreed that it was time for better tenants than 9 Chains. Carroll points out, for example, that 9 Chains management was responsible for supplying Plant with her heating oil, but were sometimes lax in that duty.
"Chris would raise hell about that, because she was cold."
The notion that Carroll and Jansen could replace 9 Chains as tenants, instead installing a lesbian venue, must have seemed like a good idea to Plant, as that's exactly what happened. And once Phase 1 opened, Plant was part of the family.
"I loved her — she was the sweetest thing," says Carroll. "She'd come down at the beginning of the night and bring food trays for the girls who were working."
The name "Phase" was suggested by a friend. Carroll says he tacked on "1" and just liked it. That was that. And catering to the lesbian community, well, that was never in question.
"We never even thought about that," he says, adding that Jo-Anna's was closing, so there was need for another lesbian venue. Beyond that, he and Jansen, who passed away in 2007, felt comfortable with the lesbian community. "We wanted to keep it always women. It's been women from day one."
Above the space occupied by Phase 1 are two apartments, long vacant, where the building's late owner, Delores Plant and her husband once lived. There's a bed up there where Carroll might catch a catnap on occasion, but that's all. Sitting in the bar, hours before opening, there's a sort of sadness in Carroll's story, the sort of sadness that's bound to accompany any story that spans decades.
But there's also happiness — plenty of happiness. It's easy to imagine the electricity when Carroll and Jansen met, about a year before opening Phase 1, their cars idling next to each other at an intersection.
"I was about 28. He was about 23. The stoplight was right out here on Pennsylvania Avenue. I think I said, 'You want to have a cup of coffee?'" Carroll recalls with a smile that hints there are likely more intimate details of that meeting, but he won't be sharing them. "He told all his friends he'd finally met the man he loved."
While that relationship is part of the story, Phase 1 is really about a community, or a family, that revolves around a fairly basic bar that has changed far less than the neighborhood around it.
Angela Lombardi joined that family about five years ago. Moving from Southern California to attend George Mason University on a soccer scholarship, she fell into D.C. nightlife. She has no intention of falling out.
"I long to do nothing else," she says, mentioning jobs bartending at the 9:30 Club and Polly's on U Street NW before coming to Phase 1. "It's why I wake up in the morning. It's such a luxury to love what you do."
Although Lombardi generally shied away from the gay scene, a co-worker's girlfriend eventually coaxed her into the Phase and, from there, into a job. She hasn't looked back. Instead she's taken Phase 1 forward, designing a contemporary logo, launching a website, and adding a bit of spice to the Phase 1 flavor.
"We just started doing belly-dance shows. We still do D.C. Kings shows. We're really trying to encompass all things queer and entertaining, a little something for everyone," Lombardi says, joking about bringing the bar into the 21st century with treats like Jell-O wrestling to go with that website. Still, she knows that there's an unpretentious quality to Phase 1 that nobody wants to touch, herself included.
"We're old school," she says with pride, excited about the new addition of Pabst Blue Ribbon "pounders" to the bar menu. "We're basically a lesbian dive bar. We're not an L Word bar. We've got great staff, cheap drinks, and crazy, fun shit happening on any given night."
That crazy, fun shit will be the highest order as the Phase 1 crew celebrates the anniversary this weekend. A special fete running from Feb. 25 to 27 includes live performances by Hunter Valentine, The Pushovers & Kaylan Rexer, music from the Phase's decades, drink specials, and the revival of a bit of the bar's past, the Miss Phase 1 Pageant.
"We're doing it classic-pageant style: eveningwear, talent, interview," Lombardi says. "It's just going to be a hot mess."
Whether it's Jell-O wrestling, tiaras, or just a night of looking after the ladies, Senait, the mono-monikered bar back, is thrilled. Emigrating from Ethiopia in the late 1990s, Senait found Phase 1 in 2002. And while the 41-year-old is marking about seven years as an employee, she grants that her first forays as a Phase 1 patron weren't necessarily the sort of party she was looking for — though that didn't stop her from making the trek regularly from Manassas, Va.
"It was kind of dark and everyone kept to themselves," she recalls. "But I just kept coming back, Thursday through Sunday, hanging out there all the time."
Senait's diligence was rewarded not just with a job, but with a sense of family. Without any biological family in the area, she underscores just how important that is to her.
"Once you walk through the door, you're safe," she says. "You're free to be who you are. Once you walk through that door, you have one goal: to have fun and make friends."
Senait is also proud to be part of a bar that has been offering that same feeling to women for generations. And Phase 1's position as a community pillar isn't lost on any of the staff. Even the owner of The Hideaway, billing itself as the oldest lesbian bar in the country, having opened in St. Petersburg, Fla., in the summer of 1969, can appreciate Phase 1's role.
"Any business — gay or straight, lesbian, transgender — that can operate successfully for so long deserves admiration," says Hideway's Karen Slaugenhaupt. "Keep up the great work. Kudos to them."
After all, it's about community, not competition. And though some might raise eyebrows at a 40-year-old lesbian bar being owned by a gay man, Lombardi is certain it's thanks to Carroll that the bar made it so far.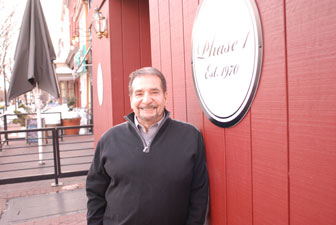 Allen Carroll
(Photo by Todd Franson)
"It's definitely Allen's baby, his absolute constant for 40 years," she says, despite Carroll's owning Zeigfeld's/Secrets, as well as other bars over the years, including The Other Side. "I wouldn't be surprised if he's more comfortable at Phase 1 than at his own home. He's kind of like our dad. Sometimes he's hard on us, but he loves his staff. He'd do anything for us. We are a family. If it was about dollar bills to him, the Phase wouldn't be here.
"I can't put into words how important this bar is to me," she continues. "It's more than a bar — it's what queer culture has gone through. It's never faltered from its course. It's held true to being a lesbian bar. It's never attempted to be something else – when it would have been easier to be something else."
Carroll doesn't deny that. Indeed, he says, there were times when it would have been fiscally advisable to shutter Phase 1. He had other ventures to turn to, and the lean times could go on for years. When various gay men's bars would tempt his clients with women's nights, he took a hit. But he and Jansen stuck with Phase 1.
There are some things you just can't quantify in dollars and cents.
"Women go away, but they always come back and they're so glad that the Phase is still here for them," Carroll says, naming various women from the Phase's herstory. There was Mary Knowles, a mangager, and Pam Porter, a bartender. And "Mitzi," whose last name escapes him.
"I have a group of older girls that come every year on a Sunday, a group from Rehoboth," he says. "They used to come here years ago. They're in their 50s and 60s. They come in and have a ball, dance — we play the old music from back then. These old girls have fun. I could tell a story about each one of them.
"I had a girl come in a few months ago. She said, 'You don't know me, but my mother used to come here.' It makes you feel like it's always been here. There have been times when I thought, 'Well, maybe it's time.' There've been times when it's been bad, believe me. But I just couldn't let go of it. I hold onto it. I'm that type of person. I don't like to let go. My women — they've always been part of my life. And this is the Phase 1. It never changes. It's my baby."
For more information about Phase 1's 40th Anniversary celebration, call 202-544-6831 or visit phase1dc.com. Patrons with photos from the bar's history are asked to e-mail copies to or have them scanned by Phase 1 staff, as part of the anniversary. Further, patrons with stories to share of the bar's history are invited to arrive early (doors open at 7 p.m.) during the anniversary celebration to share memories on camera, to be screened at the bar.