Signature Theatre's Sweeney Todd is a nightmare drawn by Edward Gorey and colored by a shipwrecked orchestra. A lonely fairy tale featuring a peculiar assortment of murderers, madmen and the morally bankrupt, it's a bloody, brilliant valentine.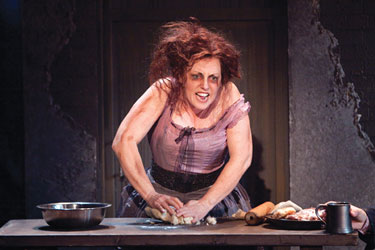 Sweeney Todd
(Photo by Scott Suchman)
Benjamin Barker, now known to the world as "Sweeney Todd" (Edward Gero), has returned to that "hole in the world like a big black pit" of London to seek revenge on the man who caused his wrongful conviction and exile. As it turns out, that man, Judge Turpin (Chris Van Cleave), has also taken Todd's daughter Johanna (Erin Driscoll) in as his ward. And his intentions are not always the most fatherly.
It's in London that the Demon Barber of Fleet Street meets Mrs. Lovett (Sherri L. Edelen), a woman whose claim to fame is making the worst meat pies in London. (Quality meat is, after all, expensive.)
Together, the two fall into a scheme that both satisfies Todd's thirst for revenge and the hungry dozens at the soon overflowing tables of Mrs. Lovett's shop.
Filling Signature's grim stage – a skeleton of pipe and decay – is an outstanding cast whose voices and performances lace together into a seamless tapestry.
In the role of Mrs. Lovett, a legacy that manages to include both Angela Lansbury and Helena Bonham Carter, Edelen is a delicious guilty pleasure. She imbues the shopkeeper with a wry gallow's humor, gifting her a voice like a gorgeous rush of half-strangled breath.
As the object of Lovett's affections, Gero's Todd is an imposing wall of a man. A nest of tension and tremors knit together with anger and pain, his performance is jarring and unforgettable.
SWEENEY TODD





To April 4
Signature Theatre
$52-$76
703-820-9771
The pair are joined by a strong collection of cast mates including Driscoll – whose Johanna is a flash of sunlight in a Marilyn Manson concert – and the wonderful Gregory Maheu as Todd's companion Anthony Hope.
With Sweeney Todd director Eric Schaeffer and the team from Signature deliver a fantastic evening of misfits and lost souls. Just be sure to plan accordingly and eat before the show.
---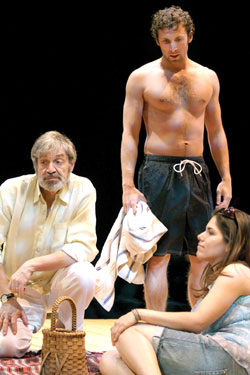 Beauty of the Father
(Photo by Daniel Troconis)
Emiliano (Norman Aronovic) sees dead people. In fact, his best friend happens to be the very deceased Spanish writer Federico García Lorca (Dan Istrate). The two are central figures in Nilo Cruz's Beauty of the Father, a play Cruz says found its genesis in thinking about "what one is willing to sacrifice in the name of love." From that spark Cruz has written a story of dangerous affections where impulse and emotions twist about one another like tangled undergrowth. It's a love story that has found an exceptional, albeit temporary, home at GALA Hispanic Theatre.
After the death of his ex-wife, Emiliano's daughter Marina (Monalisa Arias) has come to Spain, where she finds her father's house filled with a kind of makeshift family. There is Paquita (Kerry Waters Lucas), who would seem to be Emiliano's girlfriend, and the young and handsome Karim (Lucas Beck).
What begins as an innocent flirtation between Karim and Marina quickly spins out of control as true relationships are revealed, loyalties tested and affections betrayed.
GALA company member Arias is a pleasure to watch in the role of Marina. Strong and bright, it's a performance that accepts the emotions of her situation while remaining refreshingly uncluttered. Arias has a strong partner in Beck whose emotional investment brings Karim boldly and fully to life.
BEAUTY OF THE FATHER




To Feb. 28
GALA Hispanic
$20-$36
202-234-7174
But it is the relationship between Istrate's Lorca and Aronovic's Emiliano that will most hold the audience's attention. These are two fine actors caught up in a lyrical duet of words and emotions. Aronovic's strong physical presence paralleled with Istrate's slight dandy of a poet.
Their portrayals create a situation where the symmetry of their lives is clear. They are two sides of one coin. They are the ephemeral and often fleeting nature of desire balanced against the harsh realities of the world.
Beauty of the Father is as complicated, heartbreaking and ultimately reaffirming as love actually is. It's the kind of show that may raise an unexpected ghost or two from your own past.
---
Even without opening the program, art lovers will instantly recognize designer Tony Cisek's gorgeous set for Round House Theatre's production of Permanent Collection. Playwright Thomas Gibbons's Morris Foundation is inspired by the recent real-life history of the Philadelphia-area's famed Barnes Foundation, an institution whose eccentric founding and peculiar operating guidelines often lands it in a swirl of controversy.
In Gibbons's world, the Morris Foundation becomes much more than a collection of paintings. It is a catalyst for a brilliant and intensely considered meditation on race. Though, meditation is too precious a word for it. This is a deftly performed fistfight.
A provision in the will of Alfred Morris has resulted in the transfer of his namesake foundation to a historically black college that has decided to appoint a member of its board of trustees, Sterling North (Craig Wallace), as the institution's first African-American director.
North discovers, in storage, a small group of what he considers significant examples of African art. Despite another provision in Morris's will – that the foundation's exhibits never be altered – North decides to bring the works out of storage and put them on display.
PERMANENT COLLECTION




To Feb. 21
$25-$60
240-644-1100
Jeff Allin plays Paul Barrow, the museum's longtime director of education who opposes North's plan, ostensibly in defense of the foundation's original mission.
But Permanent Collection places every conversation, thought and action under a microscope to throw into question the difference between what is said and what is being said. There are no heroes in this story, no clear sides to take. It's a play that embraces the complications inherent in discussing race by refusing to give audiences a moral with which to depart.
Wallace and Allin give stellar performances full of passion, purpose and incendiary chemistry. Their arguments frustrate and discomfort as though we have walked in on a discussion we're not meant to have seen, heard things articulated that we're not meant to even think.
And that is Permanent Collection's wonderfully realized, though difficult to contemplate, point.