Todd Metrokin and Chris Farris became the faces of Gays and Lesbians Opposing Violence (GLOV) in the fall of 2008 when they re-launched an organization that had first emerged during the '90s. Recalling similar events that led to the original founding of the group, the two friends focused their activist efforts as a result of a string of violent attacks against the local LGBT community.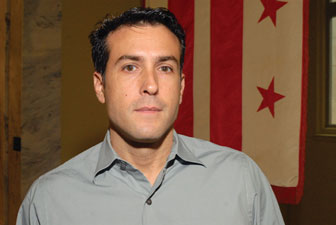 Chris Farris
(Photo by Ward Morrison )
Metrokin was a victim of one of those attacks. Found battered and bruised in July 2008 in Adams Morgan, his attackers left a shoeprint on his face where he had been stomped on repeatedly.
Since GLOV's rebirth, Farris and Metrokin have been active and loud.
The two have led GLOV, a program of The Center, the city's LGBT community center, in raising awareness about violence against the LGBT community. That includes a keen focus on the Metropolitan Police Department's handling of cases of anti-gay violence, as well as criticizing the United States Attorney's Office for light sentencing of offenders, or MPD Chief Cathy Lanier's changes to the city's Gay and Lesbian Liaison Unit (GLLU).
But just a few weeks into the new year, Farris announced that he and Metrokin would soon be stepping aside to welcome new leadership for the volunteer-based organization.
"I'm hoping it will give [GLOV] a chance to continue to grow," he told Metro Weekly in late January.
"I think it's really important in these community organizations to have change, to constantly bring in fresh ideas. I will remain very much involved; I just think it's important to constantly rotate. I'm happy about it."
GLOV members selected their new co-chairs during a Jan. 28 meeting: Kelly Pickard and Joseph Montoni.
Montoni, a public-policy professional, has been involved with GLOV since its resurrection.
"Todd was a good friend of mine and I was personally affected by what happened with him. Naturally, I wanted to do anything I could do to help out."
Becoming a dedicated member of the group, Montoni, a 35-year-old Dupont Circle resident, served as chair of GLOV's Community Outreach Committee.
"Having been involved with GLOV since the beginning, I'd like to do what I can do over the course of the next year to take it to the next level," he says, "and pass it on to someone else."
GLOV members also selected Pickard, 31, as co-chair.
"I was definitely very interested in taking on the position," she says. "I was a little nervous in putting my name forward, but I put my name forward and I felt supported once I did."
Pickard says she got involved with GLOV after such attacks on LGBT people as the killing of Tony Randolph Hunter, a 37-year-old gay man from Clinton, Md., who died Sept. 17, 2008, from injuries he sustained during a Sept. 10 attack while walking to a gay bar in the Shaw neighborhood.
"I couldn't help but be moved by some of the outright viciousness and hatred and some of the attacks that I learned about last year," she says. "I personally didn't feel that I could be a part of a community if I did not try to do something about that."
While both Montoni and Pickard say it's too early to lay out a blueprint of what they hope to do with GLOV in the coming year, they both agree that GLOV serves a vital purpose.
"I think for awareness, for education, outreach, advocacy," Pickard says.
"When you have such a large and visible gay and lesbian community it's easy to get comfortable and sometimes forget the basic things: to take care of yourself and know what's out there. I think it's important anytime when you have a group that's supporting the community, looking out for the community and fighting for that community when things aren't being handled properly."
The co-chairs express similar sentiments when talking about their predecessors.
"It's a bit daunting to picture," Pickard says. "It's fairly large shoes to fill with both Chris and Todd, who have that much passion and that much effort that they've put into [GLOV] in kind of clearing a path. … I think the daunting part is taking on the responsibility that they've started with and feeling like I hold up my end of the bargain in 2010."
Montoni credits Metrokin's "creative mind" for GLOV's public relations and advertising efforts, as well as lauding his decision to come forward and talk publicly about his attack.
"He's a very articulate individual, and had a powerful story being the victim of such a violent crime. To be able to have the courage to talk about that in a public way is not easy."
Reflecting on Farris's leadership, Montoni says it will be difficult to emulate someone with a "tireless source of energy, doing the job of five people rolled into one. They both really established a solid foundation. I'm glad that they will be involved over the course of the coming year."
For more information about GLOV, visit thedccenter.org/programs_glov.html.