"I don't want to be ignored, oh god!" Tom Smith cries at one point on Editors' new In This Light And On This Evening. With an album like this, Smith has no need to worry.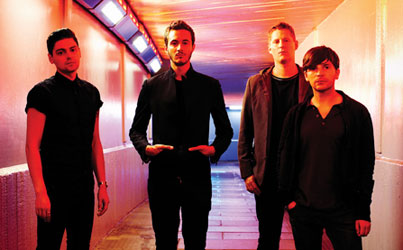 Editors
You can't ignore Editors in good measure because you can't quite get a handle on them. Oh, sure, some things are easy to discern. The band is a four piece from Birmingham, England: Smith on vocals and piano, Chris Urbanowicz on guitar and synthesizer, Russell Leetch on bass, and Edward Lay on percussion. The quartet is yet another electronic-rock group formed by lads at university making dark, dour music to cope with dark, dour days in the British Isles. In fact, the band's disco rock – and especially Smith's slightly droll baritone – will lure those of many generations, from those weaned on Joy Division and Echo & the Bunnymen, to U2 and Depeche Mode, to most recently Interpol and the Killers.
But look closer at the song lyrics, and you'll have more questions than answers. Are the members vampires? Maybe that's why they were tapped for a song on last fall's New Moon soundtrack. Are they godless? Are they vegetarians?
"You are what you eat, you'll become digested," Smith sings on "Like Treasure." "Well, love, it isn't felt. No, love is tested." Smith, as the principal lyricist, likes to leave you guessing.
And he keeps you guessing all throughout In This Light And On This Evening, the band's third album. After stirring up major interest in Europe with its first two sets released the past five years (one British newspaper called them the second biggest contemporary British band after the Artic Monkeys), Editors decided to kick things up another notch here, hiring Mark "Flood" Ellis to produce the new set.
Ellis has worked with most of electro-pop's biggest and best, from U2 to Depeche Mode to Nine Inch Nails to Goldfrapp. He's even responsible for Depeche Mode's magnum opus Violator. With In This Light Ellis has really helped the band channel its dark energy and give it real bite. More electronic than ever, with synthesizers replacing guitars, the set is an intense trip to a dark place. If it veers a bit too dark some of the time, well – sometimes life does, too.
"I swear to god, I heard the earth inhale/Moments before, it spat its rain down on me," Smith sings in a droning baritone on the ominous title track. "I swear to god, in this light and on this evening/London's become, the most beautiful thing I've seen."
Even though it's dark, the music often helps lighten the mood. On the shockingly named "Eat Raw Meat = Blood Drool," the music vamps as Smith talks about giving into temptation. "I give a little to you, I give a little to him, I give a little to her," he leers. Whatever he's giving, you'll be drooling at the sound of it.
EDITORS
In This Light and On This Evening
Fader Label
$11.98




On "Papillon," Editors create a true Depeche Mode-flavored dancefloor stirrer – one of several here – with a couple drawn-out pauses before a pounding beat ushers in the chorus. It's one of several songs in which Smith questions God. "If there really was a god here, he'd have raised a hand by now," he sings.
But most distinctive is the song's main phrase, "It kicks like a sleep twitch." Smith sings it in a slightly creepy voice that may make you think of the cross-dressing owner of Precious in Silence of the Lambs. Of course, despite the title, Smith doesn't seem to be singing about a dog here, kicking as it dreams.
Smith doesn't seem to be singing about dogs on "The Boxer," either. "Damn, this place! [It] makes a boy out of me," he repeatedly bellows, as the music churns, sweetly.
The song, like so many others, is an ode to the night, in all its beauties and especially its beasts. But then, regrettably, the day breaks. "An unwanted sun pulls rank in the sky," Smith sings. "Dazed in the final rounds."
Spoken like a true vampire.