Washington's a diverse place. That doesn't mean, however, the city always blends well. A family may pick a single church and remain loyal to it for generations. The Vida crowd may not mix well with the Results regulars. And if you live on Capitol Hill, your Logan Circle friends may characterize a visit to your place as a trek of grand proportions.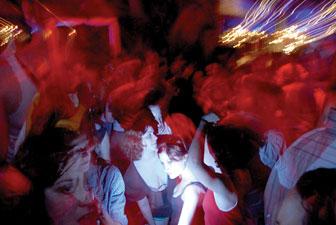 (Photo by Ward Morrison)
But stop any local lesbian — 21 or older — and there's a good chance that at least once in the past 40 years she has set foot into Phase 1. It is a common denominator.
"I was in there just a couple months ago," Sharon Moore says. "I was really happy that it's still here."
She's lucky it is. Since her first visit in the early 1980s, Moore left Washington and traveled the world. She moved back eight years ago and works in the social-justice field, as well as serving as co-president of GAYLAW: Gay, Lesbian, Bisexual and Transgender Attorneys of Washington. The woman she is now is a world away from the very young woman who remembers her first steps into a gay bar. The world itself is so different, too.
"I moved here to go to school, undergrad at Howard University," says the Detroit native. "I actually went in alone. I was meeting somebody there. I remember how dark and dingy the street was. But I was excited. It was my first real gay experience. I was really nervous. 'Who saw me walk in?' I was worried about running into classmates. I think I had a good time — I went back."
Cathy McElrath Renna, well known for Renna Communications, the public relations company she runs with her wife Leah, has her own Phase 1 memories. As a married wife and mother with no interest in tippling, she even sounds a tiny bit wistful as she revisits the Phase of her early womanhood.
"One of my favorite memories of my twenties was picking someone up who was on a date with someone else," laughs Renna. "It wasn't the best neighborhood then. There was always this little edge of excitement and danger. Across the street, there was [lesbian club] Hill Haven. You'd go back and forth. That little block, anybody who was anyone — lesbian — would come."
Ebone Bell still is a regular. She might be performing as a drag king or stopping by to socialize. Either way, Phase 1 suits her — as it has ever since her first visit.
"I was 21," Bell, 28, says of her first visit. "When I first came out, I had a lot gay-male friends, which was great, but I was looking for female companionship. The time I went to the Phase, I met quite a few people. I met people who became long-lasting relationships. It's a great space for women to just meet, to network and have a good time."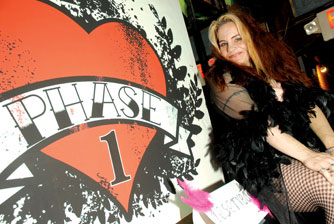 (Photo by Ward Morrison)
And Bell agrees that Phase 1 is a place for blending different corners of Washington.
"The people who work there really make you feel welcome, no matter how you look, no matter how you identify. Other clubs across the country are not as trans-inclusive. I commend them for being more diverse. They're really about community. That's what I really like about Phase. They embody community. They really reach out and give back."
Adds Renna, "The bottom line: If you're a lesbian in this city and you want to go sit and have a drink, have a chat, meet a date, there aren't many options. That one dependable, reliable, comfortable, safe place you could always go is the Phase. It's a place to hang out, watch people play pool, or cruise — yes, lesbians do that."
And as Phase 1 turns 40, Moore, with her first-visit memories now nearly 30 years old, offers special congratulations for the bar that's come so far.
"It's nice to have it as a constant," she says. "Having that sort of unknown quality that allows it to keep standing is phenomenal. It's inspiring that a place keeps standing amid all the changes on that block. It's sustaining to the community, no matter who we are or where we've gone."