Keith Short would pass Central Union Mission at 14th and R Streets NW regularly. It was in the same neighborhood where he was tenuously living with his mother. And while many people pass the centrally located mission offering a variety of services, Short had more reason than most to look twice.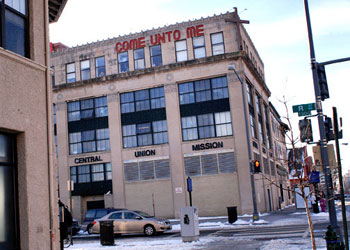 Central Union Mission
(Photo by Todd Franson)
"I was seeking help with homelessness and drug addiction, and trying to get back on my feet again," says Short. Aside from addiction services and shelter, Short also deals with multiple mental disorders, including depression. The 42-year-old says he tried to kill himself about a year ago. Being HIV-positive complicates things further.
About four months ago, as Short recalls, he'd sought an inpatient detox referral from D.C.'s Addiction Prevention and Recovery Administration (APRA). But it had been more than a week since he'd ingested any narcotics, making him ineligible for such emergency services, he says.
That's when he turned to Central Union Mission.
At the mission, Short was told about the organization's Spiritual Transformation Program. Lasting a year or more, the Bible-based program for men helps them battle addictions and other problems while simultaneously housing them and offering job training and counseling.
Though Short considers himself to be well versed in the Bible yet leaning toward atheism, he decided to give the program a shot. He was not opposed to the Bible-study portion of the program, already having an interest in the Bible and familiar enough to defend himself from proselytizing.
"I thought, 'That sounds okay. Let me try this. I need all these services.'"
Short says the first red flag for him was waved during the intake process, when he was asked about his HIV status. After telling the intake worker that he is HIV positive, Short says the worker responded by asking, "You're not gay, are you?"
Short responded that he is, after which the intake worker emphasized the mission's theological underpinnings.
"I understand what they focus on is the devotional," Short says. "I'm not going to argue the theology. I said, 'All I'm here for is the help.'"
But rather than the yearlong program, Short only made it through about two months. As he tells it, the friction between himself and Chaplain Donald Ross, who lead his program group, became insurmountable. Short says it culminated with Ross referring to him as a "helpmate" due to his friendship with an illiterate man also in the program, whom Short aided during Bible readings. The term "helpmate" is used to describe the biblical Eve.
"I was trying to tell him that was rude. He told me I was going to burn in a lake of fire," says Short, who at that point took his complaint to David Treadwell, the mission's executive director.
The three met together and Treadwell attempted to defuse the situation.
"[Treadwell] said it wouldn't happen again, but I was just so upset that this place was trying to hurt me," Short says. "What Don Ross did was very hurtful. Chaplain Ross would pursue me and hound me over the most petty things because I was unrepentant for being gay, somewhat intelligent, and I had called him out."
Short adds that services he needed began evaporating as well.
"They ceased helping me. All of a sudden, housing help stopped, counseling stopped. What they always said was that they were too busy to help me at the moment, or that there were people ahead of me. It sounds legitimate, but the services just stopped."
And so did Short's participation.
Ross declined to be interviewed regarding Short's complaint, referring queries to Treadwell, who could not speak to the specifics of Short's experience, but did talk about what he knew of Short and the mission's commitment to nondiscrimination. He read the mission's nondiscrimination policy, which includes sexual orientation and gender identity and expression.
But where discrimination policies and freedom of religion conflict, Treadwell granted that staff may take some leeway.
"People are free to join the program regardless of sexual orientation," Treadwell says. "We try to keep it general. Our primary purpose is to introduce people to faith. We will share the word and explain what it says. However, we may have a teacher who teaches what he believes. It's safe to say that the teachers at the mission would generally be opposed to homosexuality, but that makes us bend over backwards not to treat someone unfairly who is homosexual."
Treadwell also guesses that of the hundreds of men to have participated in the Spiritual Transformation Program over the course of its 30 years, Short was not the first gay man.
"We've had numbers of gay men go through our program," he says. "I don't know who most of them are. We tell them we believe in what the Bible teaches, but we're not morality police."
Short also knows of gay men who participated in the program.
"I remember one gay guy who was there before me, in the same situation. He was very angry," says Short. "When it came to gay people, we were just hammered by the Bible."
Regardless of the mission's antidiscrimination policy, the District's oldest social-service provider prides itself on not accepting government funds in the course of its work. That could make any criticism of the 125-year-old mission's theology moot. But several groups did join forces to ensure that the mission steers clear of government funding in light of its particular use of biblical indoctrination. Those groups, including Americans United for the Separation of Church and State, filed suit to block a deal between the District and the mission that included cash and a land deal, arguing the deal would essentially amount to the District supporting the mission to the tune of $12 million. Treadwell counters that while those figures may hold up on paper, the value of a property, regardless of its location, drops substantially once its been transformed into a shelter.
While a stay was issued in the court case, the District is searching for someone to take over the primary piece of real estate in question, the Gales School at 65 Massachusetts Ave. NW, and turn it into a homeless shelter. Treadwell confirms that the mission has answered that "request for proposal," which closes Feb. 16, but that the mission would run a shelter at the Gales School without government funding.
Mary Ann Luby, an outreach worker with the Washington Legal Clinic for the Homeless, says that in her decades of experience with homelessness in D.C., the distinction between government-funded or not can get very muddy, with the city not offering cash, but paying for real estate, utilities or similar.
Earline Budd, a longtime LGBT community activist who works with Transgender Health Empowerment (THE) finds such distinctions irrelevant.
"At Central Union Mission, something has to be done," says Budd, criticizing the shelter for its gender-specific programs and religious emphasis. "I've spoken with them. I raised hell. We have so many transgender women at THE who have tried to sleep there. Many of these shelters that open up based on religion say they're not discriminating, but they are. Right now, they would be the worst."
Though Budd is not happy with the way the mission is operated, there is no doubting that Central Union Mission occupies a prominent spot in D.C. philanthropy. The mission's anniversary gala in December was a sold-out affair with prominent sponsors. Notably, Pastor John K. Jenkins Sr. of the First Baptist Church of Glenarden in Maryland, one of the gala's main sponsors, presents the CD/DVD Bible-study package Let's Talk About Sex with Richard Cohen, a leader in "ex-gay" circles. Jenkins's office did not return a request for comment regarding that collaboration.
Whatever the motivations, beliefs, alliances or outcomes regarding Central Union Mission, the District's homeless residents — LGBT, in particular — freedom of religion or the separation between church and state, Short is moving on.
He is sleeping at a friend's home. He is happy with the counseling he's been receiving from the D.C. Department of Mental Health and at local Narcotics Anonymous meetings, as well as the HIV services he's accessing at the Carl Vogel Center. But recalling some time he spent in San Francisco, he's still relatively unhappy with D.C.
"I'm a D.C. native, but I went to San Francisco for work, for love. I moved back. But you can't beat San Francisco. I'm thinking of going back there. They really take very good care of their people."