Last fall for Halloween, Bella Stassi's brother Roy dressed as the Mad Hatter.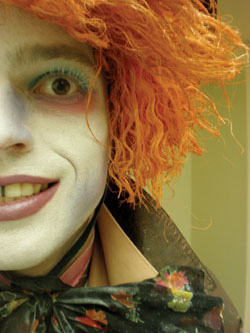 "He designed his entire costume by himself, made it all by hand," says Stassi, who was so inspired by her brother's handiwork, the Baltimore party promoter decided to fashion a whole party on an Alice In Wonderland theme. Her "Wonderland Tea Party" is set to transform Club Hippo this Saturday, Feb. 27 — just one week before release of Tim Burton's new 3D-film adaptation starring Johnny Depp.
"When you walk in [the Hippo], you're not going to recognize it," says Stassi. "It's going to feel like you're in Wonderland. It's going to be a very fantasy environment, with an amazing show, special effects, go-go dancers and people in costumes dressed as the movie." Naturally, Stassi's brother will reprise his Halloween costume for the night, and other characters from the famous fairytale will be on hand. Patrons are encouraged to dress in character, as well. Stassi says her costume is a secret. "It's going to be the big surprise of the night," she teases.
In addition to club hits from today, Baltimore's DJ Kuhmeleon will play original mixes incorporating songs from Disney's animated film, as well as other Alice-related references from Whitney Houston and Madonna. The Hippo will also serve drinks inspired by the movie, and Absolut & Red Bull Bombs. And they'll give away tickets to the film.
The party is to launch a new series of special parties, happening every couple months or so. "It's a huge event to set the tone for Club Hippo this year," Stassi says, declining to reveal plans for future theme parties and benefits. The goal is to expand beyond the two popular monthly women's parties Stassi's Bellezza Promotions throws at the Hippo: the Ladies Tea the first Sunday of the month and Seductive Friday every third Friday. "I have a lot of gay friends and I wanted to branch out to have an event for my boys," she says. "An event where everybody can come together and party under one roof."
Stassi promises "it won't be your typical Saturday night. It's something you'll be talking about for months."
The Wonderland party takes place from 10 p.m. to 2 a.m. on Saturday, Feb. 27, at Club Hippo, 1 W. Eager St., Baltimore, Md. Cover is $10. Call 410-576-0018 or visit clubhippo.com.