They don't make film music like they used to. So says Bill Conti.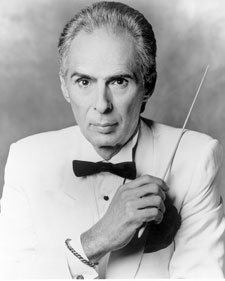 Bill Conti
"It's very difficult as the years go by, how they make a lot of atmospheric stuff," says Conti. "They might get the mood right, but it's very hard to grab you with just the mood."
Conti knows a thing or two about the subject. He won an Oscar for his score to 1983's The Right Stuff, and earned nominations for his scores to Rocky and the James Bond film For Your Eyes Only. Currently, he's working on a musical version of Paul Mazursky's 1988 film Moon over Parador.
"I grew up in a house where everybody loved opera, so making dramatic music from the very beginning is something that I wanted to do," says the 67-year-old composer who has served 19 times as the musical director of the Oscar ceremony, most recently in 2008.
Next weekend, Conti will conduct the National Symphony Orchestra Pops in a tribute to the Academy Awards. The orchestra will play selections from the composer's Oscar-nominated scores as well as a few of the overtures Conti created for use at previous Oscar ceremonies, including themes from E.T., Oklahoma and Breakfast at Tiffany's. There will also be a tribute to Walt Disney.
Just don't expect to hear much from this year's nominees. Conti says too little of the most recent stuff stands alone without the film visuals, and the music is more incidental than thematic. Says Conti: "[For the NSO concert], the music can't be so esoteric that it doesn't stand on its own."
Bill Conti conducts the NSO Pops Thursday, Feb. 11, at 7 p.m. and Friday, Feb. 12, and Saturday, Feb. 13, at 8 p.m. Kennedy Center Concert Hall. Tickets are $20 to $85. Call 202-467-4600 or visit kennedy-center.org.