Although there will, without doubt, be many advantages to the Washington Shakespeare Company's move next season to the high-profile theatrical spaces of Rosslyn's Art Space for Everyone, there are many among us who will dearly miss their code-baiting warehouse. Perhaps sensing this, they have made the most of their atmospheric lair in their latest production — Moliere's comedy The Miser — by turning their space and surrounds into the comically creepy mansion of a 21st century hoarder.
This vaguely unhinged and un-Hoovered vibe works perfectly with David Ball's unabashedly vigorous adaptation in which he infuses this 17th century comedy of manners with enough American-style vernacular to bring out the patriot in all of us. Who couldn't love a Miser who refers to his son as "fuzzy balls"?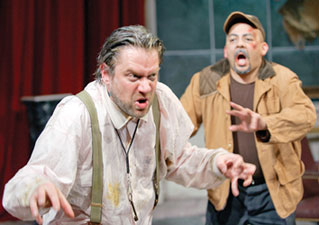 Miser
(Photo by C. Stanley)
But seriously, despite the loss of some of Moliere's antiquated but effective language, Ball neatly compensates with his sophisticated wit and a keen ear for the well-placed curse word. And what also works here is that both Ball and director Akiva Fox so blithely embrace anachronism — 17th century word-play sits aside modern idiom while archaic views on marriage hang comfortably among baggy jeans and cropped cardigans.
Embodying with perfection this timeless, money-besotted man is a superb Ian Armstrong. Delivering his Harpagon in a state of grubby agitation, Armstrong whips and whirls the language and wit with feverish dexterity. He is compelling viewing; by turns hilarious and grotesque yet always offering a pleasing attention to the details of his character. Occasionally Armstrong burrows with such frenzy into this man that we lose some language in the hubbub, but there is nothing not to love about this madman.
Skirting the action and finally spurring it is La Fleche, Harpagon's son's valet, played here as a trouser role by Sara Barker. Though we are apparently in the 21st century, this La Fleche looks as if she might be more at home among Fagan's adolescent thieves. But like all of the anomalies here, it just adds to rather than detracts from the texture to the piece. Though Barker gives La Fleche a memorable presence, she plays him/her perhaps a little larger than necessary. Frank Britton, on the other hand, playing Harpagon's servant, Master Jacques, though economical in movement, nevertheless conveys all manner of irony and emotion with face and posture. He is, as always, an effective and original actor.
THE MISER




To Feb. 28
Washington Shakespeare Co.
Clark Street Playhouse
Arlington, Va.
$25-$35
703-418-4808
washingtonshakespeare.org
Offering energy and a great sense of ensemble are Rex Daugherty and Katie Atkinson, as Harpagon's adult children, Cleante and Elise. Daugherty, dressed as a poor man's Justin Timberlake, while not quite the ideal foil to Armstrong's maniac, nevertheless brings much verve and humor to his biggest spars with Dad. As the more subdued Elise, Atkinson manages a nicely comic running commentary of facial expressions. Joshua Drew as Valere, Harpagon's servant and Elise's semi-secret paramour, is a tad uneven; not quite the consistent presence required of the role. But when he holds forth, he draws the eye and interest.
Fully on track is Heather Haney as Frosine, the irrepressible match-maker thrown into the middle of the Harpagon family madness. Haney makes this woman her own, a kind of take-no-prisoners real-estate agent with a heart, and it works exceedingly well against Armstrong's armpit stains and rage. Joe Palka as Anselme, the last-minute Italian patriarch, offers some understated charisma while Rachel Beauregard as Mariane, love interest of both Cleante and Harpagon, offsets an indeterminate accent with good comic timing.
All told, this is fun, fast-paced and the best kind of off-beat. It is Moliere with an art-house edge, a cozy and entertaining way to spend a bitter winter's eve.