Nancy Eddy flubbed her debut performance as a singer-songwriter.
"I was so nervous," says Eddy. "I remember I stopped in the middle of a song and called out, 'Ugh! What's the chord?"'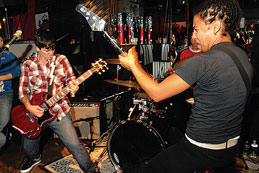 (Photo by Ward Morrison)
Fortunately, Eddy launched her career at Phase 1, the historic lesbian bar she calls "a really welcoming atmosphere to have that first experience in public, debuting your own music." That's true even though the space – maximum capacity 350 – is so intimate. "People almost have to walk across the stage when they're crossing the room," says Eddy. "You're right in everyone's faces." In Eddy's case, those faces were mostly her friends.
"It was funny because it was just an open-mike" event, she adds. "But I was just so excited to be playing in public that I invited everyone, and we kind of packed the house." She also invited her guitar teacher, who ultimately called out the right chord and saved Eddy's debut.
Phase 1 is nationally known for nurturing and supporting queer musicians and spoken-word artists – in fact, its annual PhaseFest is the largest queer music festival on the East Coast. But that reputation is quite a new thing for 40-year-old lesbian bar. After all, Phase 1 only started having live shows in recent years, aside from drag shows back in the early days.
"When I first moved to D.C. in 2003," says singer-songwriter Mara Levi, "I approached the manager at the time and asked if I could organize an open-mike. They didn't have any live music there." Eventually, the Massachusetts transplant started a monthly open-mike night. She then helped organize the first PhaseFest in 2007. The event has been headlined by nationally prominent queer musicians such as punk-rockers The Cliks, folk-rocker Bitch and rapper Shunda K of Yo! Majesty.
"I think the point was to let all the lesbians that were going to the Phase anyway know that there are great queer musicians and artists out there," says Levi. It's also helped queer musicians such as Levi and Eddy develop their careers. Though the two had never met before Eddy's open-mike debut, they've since gone on to help each other record solo albums. They've also joined together as part of a band, the Pushovers, which will perform Thursday night, Feb. 25, at Phase 1's 40th Anniversary Kick Off Rock Show.
"[Phase 1] has helped me make connections," says the now Baltimore-based Eddy. "Mara and I went on a tour of the West Coast last spring, San Diego to Seattle." Some of those gigs came about through other "musicians who had come out and played the Phase."
Obviously, performing at Phase 1 is a different experience than most other venues. "It's a bar," says Eddy, "so there's always a little bit of rowdiness going on. But it makes it a much more relaxed and fun atmosphere to play."
Natalie Illum, a nationally recognized spoken-word artist who has performed repeatedly at Phase 1, notes, "It's a different feeling to walk into that kind of LGBT history." When she's helped the bar book other touring poets, "It's really nice to say, 'Hey, look, this is a really special venue, especially if you identify as queer."'
"When I first went there it was a lot more dive-y, and it had that reputation," says Levi, who credits the bar's manager, Angela Lombardi, for jazzing up the place. "Angela's really done a lot of work to make it a nicer place. [But] it's still really friendly and eclectic, homey and unassuming."
Illum agrees, appreciating the venue as a "small, tight-knit community, not pretentious, just really old-school and welcoming.
"I also love that they're willing to allow poets and musicians," she adds. "It's become more of a community space and a place for the arts. A place for people to go and express themselves – and drink."