They may be a girl's best friend. They may even be forever. But as Jon Mervis advises, they aren't absolutely necessary.
Just one of the fold in the family business, Mervis Diamond Importers, Mervis knows his products. And he's particularly proud of the latest, a line of wedding bands aimed at same-sex couples.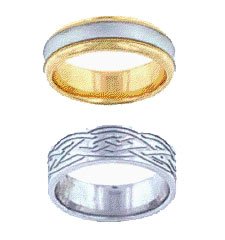 "This is the first time we've come out with a line specifically for any niche audience," he says. "We feel there's a demand for it."
To really make a splash, the retailer has joined with DC's Gay Wedding Planners to unveil the new line at a "Coming Out Party" this Thursday, Feb. 18, at the Connecticut Avenue store.
There are 18 bands in all, ranging in price from about $1,000 to $3,000. Mervis says the jewelry isn't radically different from conventional pieces, but that the company learned from some informal focus groups that gay clients tend to put greater emphasis on bands they can customize. Accordingly, the line offers heavier bands allowing for the option of setting diamonds into the metal or not.
"Each piece, in its base model, has no diamonds," Mervis explains. "But we can customize."
Mervis adds that "rings are often unisex," emphasizing the range of what's on offer.
"A lot of times, men will prefer thicker bands. But there's no reason a man couldn't have a thinner band, or a woman, a thicker band. There's no rule. The good thing about jewelry is there are no rules. It's about what you like. And getting married is such a personal thing."
Don Gillin, owner of DC's Gay Wedding Planners, who is designing some bands of his own, certainly understands marriage. With his company's consultants on hand to offer guidance on a variety of wedding questions, Thursday's function doesn't begin and end with wedding bands.
"It's for people to find out how to get married, and meet the consultants," he says. "It's for anyone who has any type of question about marriage."
With an expected crowd of about 300 attendees, cocktails from Capital Décor and Events, and hors d'oeuvre by Purple Onion Catering Co., Gillin is expecting a festive mood to celebrate the expected arrival of marriage equality in D.C.
For Mervis, it's a chance for his established company to challenge his industry's status quo.
"The jewelry business is very old school," he says. "It's not a very progressive industry at all. Same-sex marriage is shaking things up. We want to make a statement to the community: We're here. We want to be the headquarters for gay marriage."
The DC's Gay Wedding Planners-Mervis Diamond Importers "Coming Out Party" runs from 5 to 8 p.m. on Thursday, Feb. 18, at Mervis's D.C. store, 1700 K St. NW. To RSVP, visit mervisdiamond.com/gay-wedding-rings. For more about DC's Gay Wedding Planners, call 202-664-6166 or visit dcsgayweddingplanners.com.