Jamie J. Sanchez remembers when he first wanted to become a club DJ. He was all of 17 — a minor with major dreams.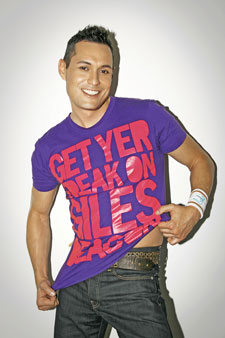 Jamie J. Sanchez
"I had a gay uncle who took me to my first gay bar," Sanchez explains. When the DJ in the Phoenix bar played Madonna's "Vogue," "everybody went mental. I just saw the crowd's reaction, and saw the DJ having fun, and I thought, I want to do that. And so I went up and met the DJ and kind of became his groupie."
Twenty years later, Sanchez has firmly established himself as a DJ – with his own groupies. He was one of XM Radio's original club DJs, and he plays at gay establishments around the world, with frequent stops in Mexico and Brazil. In his adopted hometown of San Francisco, Sanchez serves as the resident DJ for the popular Industry party.
Next Saturday, March 6, Sanchez makes his debut at Town. It will be Sanchez's first time in D.C. in five years, since he last spun at Cherry. And in fact, he's just one of two past Cherry DJs Town will debut back to back next month. DJ Alexander of Los Angeles is on duty for Saturday, March 13.
Soon after his chaperoned underage outing, Sanchez taught himself how to DJ surreptitiously, while working at a Phoenix radio station. "On Saturday night when everybody would leave, I would sneak into the building and steal their DJ equipment. And then Sunday night I would put all the equipment back so nobody knew."
In addition to playing around the world, Sanchez is now focused on "stepping up my game as far as producing and remixing." He's currently completing his master's degree in audio engineering, a focus already bearing fruit: His remix work is increasingly topping the Billboard club chart, which he also helps compile as a reporting DJ. Next to come are original dance tracks, released on his own label.
Sanchez compares his style to regular collaborator and friend DJ Paulo. "It'll always be driving, it'll always be energetic, big build-ups, big-room sound," he says, adding, "What I like about playing for U.S. crowds like Town [is that] it's a night I can throw my hair up, play some vocal stuff, poppy stuff. Just have a good time."
Jamie J. Sanchez spins Saturday, March 6, at Town Danceboutique, 2009 8th St. NW. Cover is $12 after 11 p.m. Call 202-234-TOWN or visit towndc.com.