"Sometimes the resentment still comes up," says Thom Bierdz. "But I believe in life after death, so I believe that mom's okay, just somewhere else."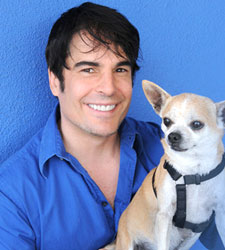 Thom Bierdz
A star of CBS's The Young and the Restless, Bierdz had to deal with significant family tragedy over the past two decades. Specifically, he lost his mother 21 years ago in a horrific, personal way that would test the mettle of the strongest of souls.
"My brother killed our mother in 1989 with a baseball bat in her kitchen," says Bierdz. "He was later diagnosed as paranoid schizophrenic."
Bierdz eventually forgave his youngest brother Troy, currently serving a life sentence in a Wisconsin prison.
"He totally screwed up…his whole life by doing something so mean and cruel," says Bierdz, adding that he's spent the last 15 years finding compassion for his brother's actions.
The tragedy also helped give Bierdz's life a sharper focus.
"[Before the murder,] I was a selfish guy who was just on a mission for fame and fortune. Now there's a need for me to outreach and contribute or help people in some way."
Last year, the Los Angeles-based actor wrote an award-winning autobiography, Forgiving Troy. He'll appear at a book signing on Sunday, March 7, at the Dupont Circle Books-A-Million. But Bierdz is also an established painter, and on Saturday evening, March 6, he'll create an original painting at MOVA Lounge as part of an auction benefiting OUT for Work.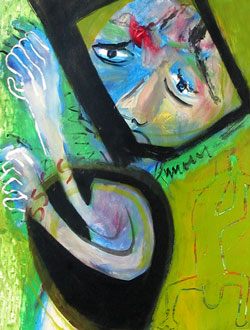 "It's a natural affiliation for me to be involved with OUT for Work, which is all about fairness for gay, lesbian, bisexual, transgender people in the workforce," says the 47-year-old actor, who is gay both on- and off-screen.
Bierdz appeared on The Young and the Restless for three years in the late-eighties until his character, Phillip Chancellor III, died. At least that's how the story went — until Bierdz returned to the soap last year.
"He was a dead, straight guy for 20 years," says Bierdz. "And then last year [during] May sweeps, it was revealed that [the character] had not died, but had faked his death. Why? Because he was gay and felt that he would not be accepted."
Bierdz concedes the storyline is far-fetched. "I don't know anybody who's faked their death," he laughs, adding, "[but] it's so great that gays are being represented [on daytime television] with normalcy."
Bierdz moved to Los Angeles from Kenosha, Wis., at the age of 21. He had never acted prior to the move. "Nope, too afraid," he confides. "I was really, really shy in high school." Even now, it's a struggle for the self-described introvert.
"I'm not a guy that likes the camera or attention," he says. "It's just something I felt I wanted to do. I've got to do it, so I force myself." Bierdz could easily "spend all day at my studio painting, just happy as a clown." Bierdz has been painting all his life, but he found it particuarly useful as a means of therapy, helping him to cope with his mother's death.
"You can see my worst times through some of my expressionistic paintings," he says. "And a lot of those paintings are in the book, because a picture is worth a thousand words."
Bierdz frequently creates "live paintings" to benefit causes focused on gay rights, animal rights, and mental illness, such as the National Alliance for Research on Schizophrenia and Depression.
As for the book, Bierdz first got the idea to share his experiences five years after his mother's death.
"I was sitting at a park bench, and I just couldn't believe it," he says. "It was so bizarre, the things that were happening in 1994: visiting [Troy in prison], the turnabouts that were coming, the bizarre rebirth of Troy, a rebirth of me. It was so unbelievable."
His brother is familiar with the book, but hasn't read it. "There are many pages of court records documenting Troy's past," says Bierdz. "There's a lot of stuff that's troubling in there — I don't want to set him off."
Bierdz may write again in the future, and he also has some art projects in development. He's especially eager to see how his character on The Young and the Restless develops as an out gay man. "I'm ready for a soap opera romance with a guy," he says. "I'm hoping that that's going to happen."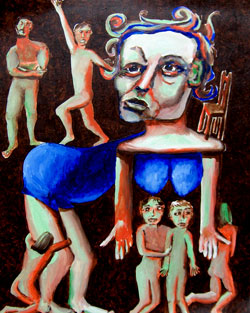 There's also talk about adapting Forgiving Troy into a motion picture, though Bierdz isn't sure he'll write the screenplay. "I would rather have somebody else deal with it," he says.
Nevertheless, the book has been a rewarding experience for him — even beyond professional recognition, such as winning the 2009 National Best Book Award for Autobiography from USA Book News.
"I get letters every day from people who have read my book," he says. "They say, 'Thank you for being so honest. I really appreciate what you've done.'
"I've had a reason to keep this going for 20 years," Bierdz continues, "but some of my family is so sick and tired of hearing about it. And I also want to be something else. I want to be something brighter."
Thom Bierdz participates in Out for Work's Celebrity Charity Auction on Saturday, March 6, from 6 to 9 p.m., at MOVA Lounge, 1435 P St. NW. Tickets, including complimentary wine and appetizers, are $25 in advance, $35 at the door. Call 202-797-9730 or visit outforwork.org.
On Sunday, March 7, from 3 to 5 p.m. he will appear for a book signing at Books-A-Million, 11 Dupont Circle NW. Call 202-319-1374 or visit thombierdz.com.