Joshua Redman had no intention of becoming a world-renowned, award-winning jazz musician.
"I didn't go to undergraduate for music – I was going to go to law school," he laughs. "This was kind of a big accident."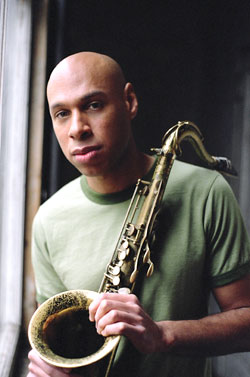 Joshua Redman
(Photo by Michael Wilson)
It's an ironic big accident, given that as a saxophonist he follows directly in some famous footsteps: those of his late father Dewey Redman.
"I wasn't raised by my father, and I didn't know him well growing up at all," says Redman, who grew up in Berkeley, Calif., with his dancer mother. "He was an influence on me in the way that many other great saxophonists who I had never met influenced me."
After graduating from Harvard University in 1991, Redman's plans for law school ended after winning the prestigious Thelonious Monk Jazz Saxophone Competition in 1991. He then played a short stint in his father's band.
"On the one hand it was a great opportunity to learn and play at the side of a master jazz musician," says Redman. "[But] it was also a great opportunity to get to know my father and to develop a relationship with him through the thing that we had the most in common, which was music."
Now, the younger Redman leads several bands, including an unconventional jazz trio with bassist Reuben Rogers and drummer Gregory Hutchinson.
"With just saxophone, bass and drums," says Redman, the music "is a particularly open context because there isn't a harmonic instrument – there isn't a piano. There's a lot of room for the music to breath."
The Joshua Redman Trio performs Sunday, Feb. 21, at 6 p.m. Clarice Smith Performing Arts Center's Dekelboum Concert Hall, University of Maryland, University Boulevard at Stadium Drive, College Park. Tickets are $42. Call 301-405-ARTS or visit claricesmithcenter.umd.edu.