"There are pieces of what being gay is about that aren't really being discussed," says singer-songwriter Matt Alber. "Being gay, I see things in a different way, and have a different perspective on things. It goes way beyond sexuality."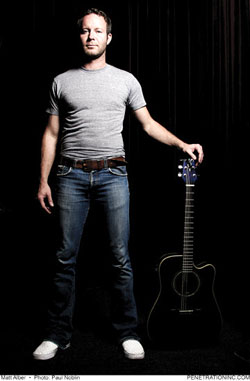 Matt Alber
To Alber, being gay is spiritual. The 34-year-old musician got his start singing in church growing up in Missouri, and struggled for years with organized religion's animosity toward homosexuality. He's now more spiritual than ever.
"I just feel like I gained a better understanding of spirituality after I got out of Christianity," he says. "It felt like it was really clouding the truth for me."
The truth is that Alber was born to be an openly gay singer-songwriter of sumptuous, sensitive songs in the style of Rufus Wainwright. In fact, Alber is often compared to Wainwright, especially with his Logo-popularized song "End of the World." But the classically trained Alber, who also plays piano and guitar, doesn't color outside the lines with his rich baritone the way Wainwright frequently does.
Alber joined the San Francisco-based Chanticleers upon graduating with a vocal degree from Missouri's Truman State University. The group just one of several traveling choirs in Alber's life. There was also a college stint in a "semi-professional" ministry chorale. That chorale fell apart when Alber was 19, after the other members, notes Alber, "didn't want to sing with someone who's gay."
Now based in L.A., Alber is currently working on a follow-up to his 2008 debut solo set, Hide Nothing. The new album will focus on gay spirituality, drawing parallels with other groups that have been oppressed. In his spare time, Alber volunteers as the founding leader of L.A.'s Forever Young Chorale – "a gay senior citizens glee club."
This Saturday, Feb. 6, Alber turns 35, and will celebrate it in D.C., performing with local singer-songwriter Tom Goss.
"My boyfriend is flying into town for the show," he says. "So I intend to have a very romantic birthday after the concert."
Matt Alber performs with Tom Goss Saturday, Feb. 6, at 5 p.m. (An 8 p.m. show is sold out.) DeLaski Theater, 1700 Kalorama Road NW. Tickets are $20. Visit mattalber.com or tomgossmusic.com.