With the "Snowmageddon" of a record-breaking double whammy of back-to-back blizzards come and gone, locals have returned to work and their daily routines. And while the storm that brought Washington's current seasonal snowfall to more than 50 inches — with snowfall on Feb. 5-6, and again on Feb. 9-10 — forced many to stay at home, for some in the local LGBT community it was a call to duty.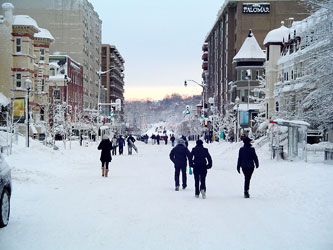 "Snowmageddon"
(Photo by David Uy)
That includes Charnay Henderson. The local lesbian who lives near North Capitol Street and Michigan Avenue with her wife, Dee Curtis, heads the Volunteer Services Department at Food and Friends as the organization's program director.
"Our mission is to make sure people eat every day, so we can't stay home because it's snowing," Henderson says of the group that began in 1988 delivering meals to people with HIV/AIDS, but now includes more than 1,400 clients suffering from a variety of illnesses. "There's no option."
For Henderson, getting to work meant shoveling a path from her backyard driveway and alley to North Capitol Street, which had been plowed, just to get her car moving.
"I have a rule that I've had since I started working at Food and Friends 12 years ago," she says. "If I'm going to eat, the clients are going to eat. So that means I've got to get there every day."
It took Henderson and her wife close to two and a half hours to get her car out to drive the three miles from her house to Food and Friends, at 219 Riggs Road NE near the Fort Totten Metro Station. When she got there, things didn't get any easier.
"I've seen a lot in the 12 years that I've been at Food and Friends, but this was the craziest week I think I've ever had there."
"Crazy" because the "snoverdose" had left most of the hundred-or-so volunteers who regularly help with no way of getting in. That prompted Food and Friends to put out two emergency calls last week.
"We probably had a third of the number of kitchen volunteers, but then the community really rallied and came out to do deliveries."
"I call it organized chaos," Henderson adds. "The entire week has been organized chaos. I've been bouncing between, literally, scooping soup and then answering e-mails from the community to try to get them to come in and help."
In the end, Henderson says the community came through and no one missed a meal. Food and Friends was able to make 650 deliveries through the blizzard, and the about 30 people who did not receive food on Wednesday, Feb. 10, were not left hungry either.
"In the fall we send out storm bags, just in case there is a storm, so we called those folks and said eat [the food in] your storm bag, we will be there on Thursday."
For Alexandria resident Matt Bamford, who carries the titles Mr. Mid Atlantic Leather 2010 and Mr. Capital Pride Leather 2009, the blizzard was literally about life and death.
Bamford volunteers with Medical Reserve Corps, which notifies him and others when certain emergency situations arise.
"There was a call put out for people in certain areas to respond to accidents, to deem if they're actually [in need of emergency services], if police and ambulance and fire need to respond," he says, adding that as the Feb. 5 storm became hazardous, the Alexandria government made the decision to assign emergency vehicles to only life-threatening situations.
"If the injury wasn't severe enough to warrant an ambulance, or if an ambulance wasn't needed, fire, EMS and police would not respond. They pretty much just wanted us to push the vehicles out of the roadway."
In total, Bamford, a certified paramedic, responded to six calls on Friday evening, all shortly after sundown.
Those calls included a head-on collision involving two families trying to get home.
"The roads were so slick that they hit head-on. The impact pushed both of them into the ditches. It was intense."
As the snow settled, things got more dangerous.
"On my third car accident, just off of Franconia Road and South Van Dorn Street, it was just a fender-bender, but as we were exchanging information and I was assessing the patients, we actually had a Chevy Malibu that was going way too fast," he says. "It spun out and came close to taking out both cars and us."
"We were between the cars and the ditch, which was the safest spot, but he was coming around and didn't see the debris. He swerved to miss the back bumper of one of the vehicles. He spun out, lost control and did two 360s. It barely missed us.
"If he had been going any faster, or if he had spun more, he would have hit both of us and knocked the (stranded) cars into where we were standing."
But Bamford says the life-threatening incident wasn't enough to scare him from responding to more calls throughout the night.
"For me, the fear of actually not being able to respond to somebody and that eventually leading to death is more scary than risking my own life. As a paramedic and as a fire fighter, I do that every day. So it's kind of programmed into to me to put myself aside and put other people first."
Bamford was surprised when he discovered his fourth call of the night focused on the start of one life, rather than the possible end to anyone's.
"The woman was actually in labor," he says. "She was on her way to the hospital and her husband lost control of the car — and she's in full-on labor."
Bamford, who has delivered three babies before in his work, had the EMS dispatched to the scene where it was a matter of close timing: "I think she gave birth no more than an hour after she got to the hospital."
In the District, as deputy associate director for mass transit at the District Department of Transportation (DDOT), it was Aaron Overman's responsibility to work with others at the agency in deciding whether to keep the DC Circulator buses operating.
"We knew it was going to be bad, but we didn't know how bad. We really tried to focus on keeping as much service out as late and as long as we could at all times," says Overman, who is gay.
"Safety is first, but part of safety is if there's no bus service people are just walking in the street. So we tried to keep as much service that we thought we could do safely."
Overman says it became "a 'watching the conditions' kind of a thing," trying to determine appropriate times to implement detours or shut down service entirely.
With detours, shutting down Circulator service completely on Wednesday, Feb. 10, and operating limited service on Thursday, Feb. 11, Overman says DDOT was able to avoid any major catastrophes.
"There were a few minor fender-benders, buses that got stuck on hills and might have rolled back and bumped bumpers with a car. But nobody was hurt or anything like that. There were a few minor scrapes."
While it was unfortunate that services had to be shut down, Overman says it was necessary.
"There was no way for buses to run. … I'd say we really did a good job at staying on the street as long as we could, and getting service back out as soon as we could."
Jeff Marootian, well known in the local LGBT community as former vice president of the Gertrude Stein Democratic Club, runs the customer service program at DDOT. With the storms, that meant heading the city's Snow Command Center.
"I think the extent to which it impacted all of us personally was something that I didn't necessarily prepare for," he says. "I didn't really fully think that I wouldn't see my boyfriend for a week and a half, or that I wouldn't get to spend time with my friends, or to just do some of the very basic things that I was doing day to day. But when you're working 12- or 15-hour days, you sort of become very centrally focused on one thing, which is doing your job."
Marootian says with the unprecedented level of snow, the Snow Command Center's main effort was clearing snow off the streets, adding that there was never a dull moment.
"It was everything from fun at times to stressful. But in the end I was just really proud to be a part of it."