In 1996, Kendra Kuliga won a drag king contest she entered on a dare from a friend. "A panel of femme judges gave me 10s across the board," says Kuliga. "From then on I was addicted."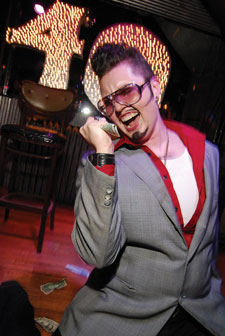 Kendra Kuliga
(Photo by Ward Morrison)
Addicted is an understatement. For 10 years, Kuliga has served as the producer and director of the DC Kings, billed as the world's longest-running drag king troupe. Kuliga, who performs as Ken Vegas, originally started the group as the Chaos Drag Kings, named after the former 17th Street bar that served as its original home base.
"I wanted to create a community of kings," Kuliga says, "a space for people to express themselves, have fun, and open up their minds about what gender performance is. I guess my role in the whole drag king scene has been to provide opportunities for others to shine."
Until 2007, Kuliga also organized and curated the annual Great Big International Drag King Show, first at the Black Cat and then the 9:30 Club. She had to give that up when she started her own graphic-design business, but she's itching to revive it.
For now, however, the focus is on the great big DC Kings' anniversary.
"I didn't intend for it to last 10 years, but I just couldn't stop, month after month — it's almost a dream," she says. "I've learned a lot about my community [through the Kings]. It helped me grow a lot." The 35-year-old also gives credit to Cheryl Spector, who performed as Simon Says and Dick Hurtz. "She was my confidant and my support," says Kuliga of Spector, who died in 2007. "I miss her greatly."
At Apex this Friday, March 5, the past and present of the DC Kings will merge in a once-in-a-decade performance. "It's a little bit of a reunion, a celebration of where we came from," says Kuliga.
Kuliga hopes her mother will be part of Friday's audience — possibly, as she has in the past, sporting male drag. "That," she says, "would be hysterical."
The DC Kings Anniversary Show is Friday, March 5, at 10 p.m. Apex Nightclub, 1415 22nd St. NW. Cover is $10. Call 202-296-0505 or visit apex-dc.com. A second anniversary show and "Ken Roast" is Sunday, March 7, at 10 p.m. at Phase 1, 525 8th St. SE. Call 202-544-6831 or visit phase1dc.com.