Speak with a variety of caterers and you're likely to come away with some reliable maxims.
First, there are vast variables in budgeting for a wedding reception. Peter L'Heureux, chef and owner of Cuisine Mondiale, points to a simple ballpark range of $35 to $200 per guest – from bare bones to valet parking.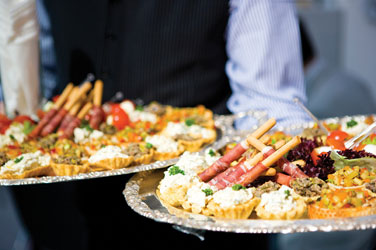 (Photo by Webphotographeer)
Second, marriage-equality in D.C. and recognition of same-sex marriages in Maryland is having an obvious effect on bookings. Just ask Jen Denney, director of sales at Ridgewells. "For the last few weeks, we've had three to four [same-sex] inquiries per day." Definitely an uptick.
Third, caterers have knowledge of an expansive range of event nitty-gritty that you may never think of. "We have captains with 15 to 20 years of experience," says Alina Zhukovskaya, vice president of marketing at Windows Catering. "We do weddings every single weekend."
And most import, the wedding is all about the lucky couple — and not just during the wedding, but at the reception too. Patrick Vanas, chef-owner of Patrick Vanas Events, knows the drill.
"One couple said, 'We want Mama Mia without the music or the drama,'" he recalls. No problem. Mediterranean foods, blue and white linens: "They want it to be a really great celebration. It's two people's very special day."
And if it's hamburgers they want, it's hamburgers they get, adds Zhukovskaya.
"The wedding is really a reflection of the couple. The wedding is their favorite foods. If the couple loves mashed potatoes and hamburgers, you can do cute little slider hors d'oeuvres and 'mashed-potato cigars.' If the couple loves seafood, a Chesapeake-themed buffet."
Denney recalls a couple who hated cake. So be it. What do you like? Fine, Dove Bars all around. L'Heureux, who specialize in "world cuisine," catered a reception for a Vietnamese bride and her Russian groom, and his cross-cultural food became the Russo-Viet fusion that helped bridge the in-law gap.
So if you're choosing a caterer for your big day, rest assured it is indeed all about you. With that out of the way, it's okay to return to the dollars and cents of budgeting a wedding during a recession. From Vanas's point that a buffet can actually be more expensive than a plated dinner, to Zhukovskaya's example of one frugally fashionable couple who opted for a still-dazzling dessert reception, to L'Heureaux's observation that "boutique" caterers may be able to keep costs down with lower overhead than some bigger players, Denney lays out the bottom line:
"Lean on the caterer's experience. We want your business. If you give us a budget, you'll get more. Come up with a budget and let us get you everything we possibly can."
And bear in mind there are rarely any rewards for putting the catering arrangements — or any wedding details, for that matter — off to the last minute. If the proposal has been accepted, it's not too early to start interviewing caterers.