Standing at a lectern in front of the Wanda Alston House, one of the nation's few transitional homes specifically for LGBT youth, Thursday, March 25, Mayor Adrian M. Fenty presented data from the D.C. Department of Health's first behavioral study of men who have sex with men (MSM).
"[This] is the first-ever study conducted to assess the behavioral risk of HIV among those in the GLBT community," Fenty said of the study that reports 14 percent of the District's MSM population are HIV-positive.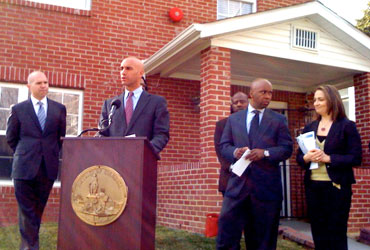 Mayor Adrian M. Fenty speaks in front of the Wanda Alston House
(Photo by Yusef Najafi)
Four days later, March 29, Dr. Shannon Hader, director of the D.C. Department of Health's HIV/AIDS Administration, sat with members of the community at The Center, D.C.'s LGBT community center, to break down the behavioral study: 500 people participated; half of them identified as white, the other half as "men of color;" half were under 30. Of the cohort, 14 percent (68) tested HIV-positive; and 40 percent of those men (28) did not know they were infected with HIV before participating in the study.
Hader also attended the Wanda Alston House gathering on Thursday, where gay Councilmember David Catania (I-At Large), chair of the Committee on Health, shared his thoughts regarding the 18-page report.
"It wasn't that long ago that we were flying blind in the District," Catania said. "We just didn't have the information that we needed to make informed decisions with respect to how we spent treatment dollars and prevention dollars."
Epidemiologists from George Washington University's School of Public Health and Health Services conducted the study.
"It's been a great partnership that now allows us to act in an informed way, to use our resources to make sure that the prevention message is targeted to the communities most affected," said Catania.
According to Hader, the "informed" plan of action includes new projects such as a collaboration involving Whitman-Walker Clinic and the Crew Club – patrons of the club can receive HIV and STD testing, results and counseling on site.
"It's a way to hopefully provide what are routine services in the clinic to people who might not be coming to the clinic, that might be actually coming to this social place," said Hader.
Gilead Sciences Inc. and the Crew Club are funding the project.
"They're not just giving us access," Hader said of the Crew Club. "They're helping to fund the staff at this project as part of their corporate responsibility to their clients coming through. That's a response … that we'd like to see more of."
The "MSM in DC: A Lifelong Commitment to Stay HIV Free" study was released a few weeks after the National STD Conference in Atlanta on March 10, where the CDC reported that at a national level MSM suffer from an HIV-infection rate 44-times higher than rates among heterosexual men, and 40-times higher than women.
Reacting to those figures, Dr. Raymond Martin of Whitman-Walker Clinic said the figures are not representative of D.C., "but are still important."
"This estimation is important because the CDC is recognizing that HIV is still very prevalent in MSMs. And when you compare it to other populations, it's really high.
"That is an important data point by itself. But I think it definitely under-represents the amount of HIV that's in the MSM community."