When Terrence McNally first approached Tyne Daly to play Maria Callas in Master Class, the actress, known for her work in television (Cagney & Lacey) and stage (Gypsy), politely demurred.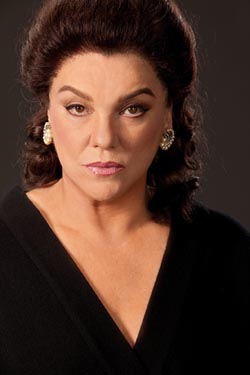 Tyne Daly
(Photo by Joan Marcus)
"I'm not the one," she said.
"Oh, yes," McNally responded, "you are."
Daly, who had seen the original Tony-winning Broadway production with Zoe Caldwell as the indomitable opera legend Maria Callas, requested a copy of the play so that she could read it again.
"It's one of the times in the theaters where I was really just taken with the play and the production and the actors and everybody," Daly recalls of the 1995 production. "I wept so hard at the end that I had to stay in my seat until I recovered myself. And then I went up to see Zoe Caldwell in her dressing room, and when she opened the door, I burst into tears again. I used half a box of Kleenex. I was just undone."
Reading it again produced similar results.
So, naturally, Daly accepted the role.
"There's no point in doing anything unless you grow, unless there's some sort of learning curve," says Daly. "But to me it's not about playing Callas. It's about playing the play. Who's smart in this play, who's observant in this play, is Terrence McNally. [Through Callas,] he talks about art and music and performing, the cost of careers — beautiful, beautiful things. They're all in the play."
Daly prepared by reading every available biography on Callas, as well as listening to the soprano's recordings.
"You read and…you listen to the woman's work, and then you stop," says Daly. "You put it aside and take it over. I suppose I could compare [playing Callas] in some ways to Gypsy. The ghost of Ethel Merman was large and I had to first acknowledge and then dismiss that ghost. The same is true for Callas."
Daly stresses that, despite the subject matter, Master Class is not "meant just for people who know opera."
However, she marvels at the vast stores of knowledge housed by the typical opera fanatic.
"Opera fans are kind of like baseball fans. They know all the stats. As a baseball fan, you have to know who pitched against whom, in what year and what city and what the old team uniform looked like and what the new team uniform looks like. An opera fan, you know who conducted, what year it was, and whether or not the tenor canceled. It's just crazy," she laughs.
McNally, she believes, more than fits the fan bill.
"He really loves music. He really loves opera. He is a fan and an expert about that kind of music. And he takes that operatic sensibility to his work."
As for Daly, there have been a few extra benefits since accepting the role of Callas — one of those being attending more operas.
"I just saw my first 'Ring Cycle' this summer," the 64-year-old actress says, adding with a note of pride, "and I made it all the way through."
Master Class runs to April 18 at the Kennedy Center Eisenhower Theater. Tickets are $25 to $80. Call 202-467-4600 or visit kennedy-center.org.
This is a three-part feature article that also includes: