Generally speaking, there are two times in your life you'll be celebrated with flowers. The difference with your wedding is that you'll get to enjoy them so much more than at your funeral.
Flowers have long been used to mark the pivotal junctures in life with a natural splash of color. Beyond the available rainbow of floral colors, also consider that various studies point to scent as a key trigger of memory. And who wouldn't want to be reminded of his wedding day every time he caught a whiff of jasmine or some other fragrant flower?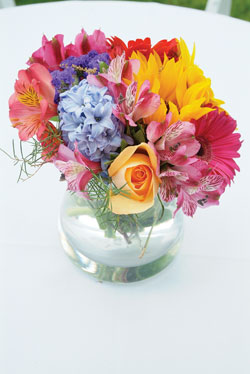 (Photo by Ward Morrison)
"For a majority of people, it's all about color," says Stephen Robinson of Bloom Fresh Flowers in Alexandria. "A few people say they want a certain flower for a smell. Some people ask for gardenia or lily of the valley."
Robinson adds that if you're going for a scent, you need to point that out to your florist, as some methods for mass-producing flowers may lessen the scent.
He also notes the importance of when to say when: "You want your guests to have a beautiful environment to look at, but not overdo it. To create a memory, it's very important."
Beyond the aesthetics, there are a couple other points worth considering. First for many will be the cost — lots of wiggle room here.
Josh Fredo, owner of Fleur de Lune in Leesburg, Va., says a lower-cost bridal bouquet might cost about $100, or a bit less. His highest-end bouquet to date, however, was in the neighborhood of $500. "It was all tropical orchids, lilies and roses, and two feet long."
Shying away from $500 bouquets, there are lots of savings to be had.
"Roses, snapdragons or iris can be budget flowers, depending on the season," says Fredo, adding that carnations and daisies are budget flowers year-round, though they will set a moderate mood. "Orchids, lilies and roses set a traditional, upper-end tone."
And while Fredo recalls a $50,000 commission from a bride wanting a Cinderella-themed wedding, complete with a pumpkin-shaped carriage in which to arrive at her wedding (he talked her out of the dangerous glass slippers), floral designer Micheal Lanni, who owns Volanni in Southeast D.C., says he's just not seeing this sort of extravagance in same-sex couples' flower budgets.
"I just think it's a completely different world," Lanni says. "It's not comparable at all to straight weddings. They're usually more contemporary, but they definitely have lower budgets."
That may embolden a soon-to-wed couple with no hankering for horticulture, but cut the flowers entirely and you're definitely taking a turn toward the drab. Instead, as with any good professional, your florist may stretch your budget farther than you thought possible.
"People come to me and give me an idea of what they want," says Robinson. "They may want the sun, the stars and the moon, but their budget doesn't accommodate that. So you compromise in another area. Do centerpieces on every other table. There are a lot of options, and there are always substitutions."
Although Fredo once managed to pull together a wedding's flowers in a single day, a bit more notice would be helpful. Consider weeks rather than hours. It may also be worth your while to bring your florist in on less-obvious aspects of your wedding. Florists who have worked on a number of weddings are bound to have their own lists of resources when it comes to venues and event planners.