Most of the Oscar winners this year are sure-things.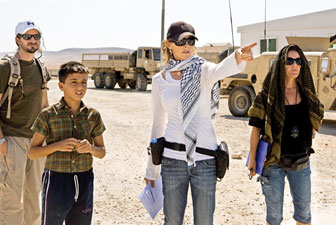 The Hurt Locker
There, I did it. All of my Oscar picks for the year are cursed and I'm leaving myself wide open to ridicule and derision by declaring that the competition is over (if it really ever started). But seriously, the only drama surrounding the Oscars will fall to just one or two categories. The real suspense will be whether Steve Martin and Alec Baldwin can pull off the co-host thing (was Neil Patrick Harris busy?). Otherwise, it's going to be a parade of already-anointed winners and a bloated Best Picture category, which still seems like a horrible decision since eight of the nominations have virtually no chance of getting remotely close to Oscar. But since what wins isn't always what I would have voted for, both are recorded here for posterity.
Best Picture: After all that opening posturing, this category is still up in the air. While it was nice to see District 9 take one of the 10 slots, the rest weren't very surprising. To understand the voting for Best Picture, even a serious man would need an education in advanced statistics. Essentially it means that former frontrunner Avatar might take a blindside hit and lose the precious statue. Since the best film of the year, A Single Man, was treated like an inglourious basterd and not even nominated, anyone who gets up onstage will constitute a travesty. So I pick the one film I couldn't fit into this blurb. My pick: Write-in for A Single Man. Academy will pick: The Hurt Locker.
Best Actor: Since it's the only chance to vote for the film, Colin Firth all the way baby! Okay, reality check. Jeff Bridges is going to win. To lift a line from my review, "anytime you have an out-of-shape man puking his guts into a toilet while wearing only tightie-whities the [Oscar] buzz is inevitable." Keep on buzzing, Jeff. Buzz, buzz, buzz. My pick: Colin Firth in A Single Man. Academy will pick: Jeff Bridges in Crazy Heart.
Best Actress: Wouldn't it be so much fun – not to mention appropriate – to watch Gabourey Sidibe get the Oscar over both Sandra Bullock and Meryl Streep? Not to disparage either veteran, but it would be wonderful for the newcomer who tackled an incredibly challenging role with great skill to beat them out. But Bullock's portrayal of a Southern belle with balls was touching, and it might be her only nomination (unlike Streep), so her win wouldn't be all bad. My pick: Gabourey Sidibe in Precious. Academy will pick: Sandra Bullock in The Blind Side.
Best Supporting Actor: Christoph Waltz was undoubtedly the best thing about Inglourious Basterds. Business for him will be a-boomin' on Oscar night. My pick: Christoph Waltz in Inglourious Basterds. Academy will pick: Waltz.
Best Supporting Actress: I walked out of Precious a) wanting to slit my wrists because I was so depressed, and b) saying that Mo'Nique deserved the Oscar. While I would contemplate "a" as an option before watching the film again, I stand by "b." Maggie Gyllenhaal was lovely in a flawed role in Crazy Heart, but there is just no way she's going to be singing on Oscar night. My pick: Mo'Nique in Precious. Academy will pick: Mo'Nique.
Best Director: Does anyone really want to see James Cameron take the stage and declare himself the king of the world again, even if this time it's over the fictional world of Pandora? While he certainly deserves recognition for his achievement in Avatar, let's call the box-office receipts recognition enough and crown Kathryn Bigelow queen. She immediately captures the audience in The Hurt Locker and blasts open a new world as well, one that is all too real. It's also fun to think that Cameron has to stay in his seat while his ex-wife takes home a new man named Oscar. My pick: Kathryn Bigelow. Academy will pick: Bigelow.
Best Original Screenplay: A bomb is a force of nature and it's likely that the blast radius of The Hurt Locker is going to extend to this category. My pick: Hurt Locker. Academy will pick: Hurt Locker.
THE 82ND ANNUAL
ACADEMY AWARDS
Sunday, March 7
8 p.m.
ABC
Oscars.com
Best Adapted Screenplay: For all the hype around Up in the Air, this is the only category that it has a real shot to win. And deservedly so. My pick: Up in the Air. Academy will pick: Up in the Air.
Best Animated Feature: If something other than Up wins, I will see the next Twilight film five times. Promise. My pick: Up. Academy will pick: Up.
Best Documentary Feature: As my friend said after seeing The Cove, "When the dolphins do join up with the sharks to kill humans, we will totally deserve it." Sounds right. My pick: The Cove. Academy will pick: The Cove.
Best Original Song: As a country lover, there's only one option. My pick: "The Weary Kind" from Crazy Heart.
The "I need a refresher" categories: Do you use the shorts and sound and film editing categories to get a new drink? Yeah, me too. Happy Oscars!