In the hours before the final changes to the congressional health care bill were passed by the House of Representatives on March 25, the two longest serving openly gay members of Congress both spoke confidently that a floor vote on the Employment Non-Discrimination Act (ENDA) would be coming soon in the House.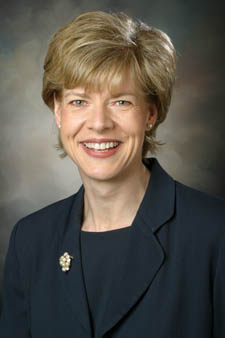 Tammy Baldwin
Rep. Tammy Baldwin (D-WI), who recently told a reporter that she believed the votes for passage exist in the House, said on Thursday, "I've heard encouragement that as soon as we return from this recess we will promptly take up ENDA. I suspect that's the result of feeling some real confidence that the votes are in."
Congress is now in recess until the week of April 12.
Efforts at moving forward ENDA, the legislation that would prohibit discrimination in employment based on sexual orientation or gender identity, have recently been more low profile than the prominent efforts to repeal the "Don't Ask, Don't Tell" policy. President Barack Obama, who mentioned the repeal of the military policy in his State of the Union speech, did not even mention ENDA – despite a significant portion of the speech focusing on job and the economy.
So, why now?
"I think that it was very clear that almost every piece of legislation of any significance was on hold until we finished health care," she said. "We've finished health care! At least, in an hour or two, we will."
They did.
Rep. Barney Frank (D-MA), the bill's sponsor, agreed with Baldwin's assessment, but expressed his view on where the pressure needs to be placed.
"I am now confident that we will be getting a vote on ENDA," he said, "and what people in our community need to do now is focus on lobbying members of the House so that we have the votes for it."
Robin McGehee, one of the co-directors of the new direct-action group, Get Equal, which staged protests in Speaker Nancy Pelosi's D.C. and San Francisco offices asking Pelosi (D-CA) to schedule an ENDA vote by the end of the month questioned Baldwin's assessment of why now.
On Sunday, referring both to lobbying days by groups like the Human Rights Campaign and the National Center for Transgender Equality and her group's efforts, she said, "After all of that influence, Barney Frank and Baldwin are talking openly about ENDA."
As for the protests by Get Equal, Frank initially said he had "nothing" to say, quickly adding, "The fact is, there was no chance of getting [Pelosi] to focus on this until health care was done. Health care is now done."
McGehee challenged Frank's assessment of the group's protests, down to the premise behind them. She said, "We did not go in saying that she should be ousted from her position as speaker. We were just asking for her to commit" to a vote by the end of the month.
"We don't think any type of pressure is bad pressure," she said. "Get Equal is not looking for a good relationship with Pelosi. . . . It's to be able to get Joe [Solmonese of HRC] and Rea [Carey of the National Gay & Lesbian Task Force] and Maura [Keisling of NCTE] into those meetings where they can . . . use the political capital they've gotten to pressure" leaders for action on LGBT equality legislation such as ENDA.
Frank pivoted from the protests to the work that he said remains ahead, saying, "The only thing that's left for the community to do is the hard thing: Help us get the votes."
Asked about the time between a committee vote and a floor vote, Frank said, "The committee vote will be followed very shortly by a floor vote. Absolutely."
The bill, H.R. 3017, is currently before the House Education and Labor Committee, which is chaired by Rep. George Miller (D-CA). Miller recently said that his committee would be addressing ENDA after health care was completed. The bill, along with Frank and Baldwin, has 197 co-sponsors – including Pelosi and Miller. The Senate version of ENDA, S. 1584, is sponsored by Sen. Jeff Merkley and has 45 co-sponsors.
A spokesman for the committee did not respond to a request for comment.