On March 10, Rep. Pete Stark (D-Calif.), with nine Democratic co-sponsors, introduced the Every Child Deserves a Family Act to address anti-LGBT discrimination in adoption. LGBT equality advocates, however, describe the bill's introduction as only the first step in building support for the nondiscrimination measure.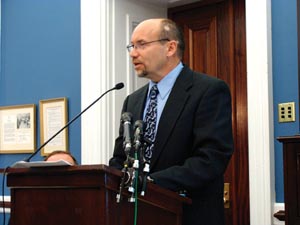 Martin Gill
(Photo by Cathy Renna)
The bill would make it illegal for any entity involved with adoption or foster care placement that receives federal funding to discriminate in its placement decisions based on sexual orientation, gender identity or marital status. States whose statutes or policies conflict with the laws would need to change those policies or risk losing federal adoption funds.
As Stark said at a panel discussion on the bill held at the Capitol on March 11, "Too many children need a loving home, and we should not close any door to them."
The bill is modeled closely after the Multiethnic Placement Act (MEPA), legislation passed in 1994 and amended in 1996 that addressed racial discrimination in adoption placement. MEPA prohibits the use of a child's or prospective parent's race, color or national origin "from delaying or denying a child's foster care or adoptive placement."
Stark's bill – as with MEPA – would place enforcement of the law with the Department of Health and Human Services. The federal force behind the legislation would be the authority given to the HHS secretary to withhold certain Social Security Act Title IV funds – those relating to "child and family services" and "foster care and adoption assistance" – after a certain time passes following the enactment of the bill.
The bill also would allow those people who believe that an entity is discriminating based on sexual orientation, gender identity or marital status to take the entity to court to stop the discrimination.
Stark's legislation currently has no Republican co-sponsorship and is only co-sponsored by one of the three openly LGBT members of Congress, Rep. Tammy Baldwin (D-Wis.).
Jennifer Chrisler, executive director of the Family Equality Council, said, "We're focused right now on building support for this bill, both in the House, and then trying to build support for it in the Senate.
"We're going to stay focused on educating people about the child-welfare crisis that we have in this country … and how, if we lowered the barriers to gay and lesbian parents being able to adopt and foster, we could help solve that crisis."
This is the second time Stark has introduced this legislation. The main addition to this legislation from his previous effort is its focus not only on prospective foster or adoptive parents who are LGBT, but also on the discrimination faced by LGBT youth in the foster-care system.
Stark and bill co-sponsor Rep. Judy Chu (D-Calif.) led a discussion about the need for the bill on March 11 featuring comments from academics, a would-be adoptive parent currently challenging Florida's ban on gay or lesbian adoptive parents (and his ACLU lawyer), as well as an 18-year-old high-school student who has been a part of the foster-care system in the District.
Martin Gill, the foster parent challenging Florida's law, put a stark picture to the issue. He spoke of his relationship with two young brothers that he and his partner have been fostering for more than five years and hope to adopt. Talking about the relationship between the brothers, he added about the older brother, "It was obvious that he'd been feeding and changing that baby on a regular basis. At the tender age of 4, he truly had become his brother's keeper.
"Because of the adoption ban, my boys are not only at risk of being taken away from their two dads, their home, their school," Gill said. "What is worse … is that these two boys, who have always been together, would most likely have to be split up" because of the difficulty of finding a permanent home that would allow the two boys to stay together.
About 50 people attended the panel, which was sponsored by the Family Equality Council; Parents, Families and Friends of Lesbians and Gays; Society for the Psychological Study of Social Issues; and American Psychological Association.
Talking about the bill, Chrisler said, "At the end of the day, children need to be placed in permanent, loving homes.
"We have a foster-care crisis in this country. Any law that we can pass … that will create more opportunities for children to be adopted, to be fostered, that will remove barriers to a prospective pool of parents who are eminently qualified to provide those opportunities to children, is a g ood thing."
Although the Human Rights Campaign was not represented at the panel discussion, Michael Cole wrote at HRC Back Story that the bill's introduction was a "big boost" for efforts to improve the policies and practices of child-welfare agencies for LGBT families.
The National Gay and Lesbian Task Force did not respond to an inquiry seeking comment on the bill.
The bill, H.R. 4806, has been referred to the House Ways and Means Committee. There currently is no similar bill in the Senate.