"There's an air of mystery and danger to the Black Party," says Jamin Ruhren. "I think that maybe that got to me, not realizing that a lot of it's just theater." Ruhren had never been to New York's Black Party before last year, when he hosted it as his towering drag alter-ego Acid Betty.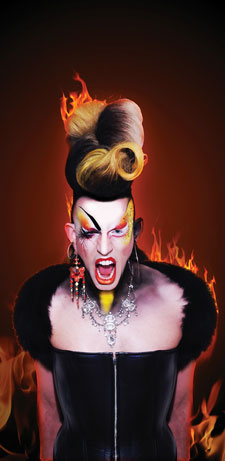 Acid Betty
Of course, there are mysterious and dangerous things happening at Saint At Large's legendary leather/fetish party, which has attracted upwards of 5,000 revelers annually going on 31 years. This year, at least, there may be a little less mystery. The party, set for Saturday night, March 20, will launch with a Black Party Expo and Bazaar that afternoon at the Roseland Ballroom.
"It's meant to be a look behind the scenes of the world's sexiest party," says Matt Humphrey, who's in charge of the expo and its several dozen vendors. Humphrey, who previously directed New York's Gay Erotic Expo, says the Black Party Expo will be similar in spirit to the Mid-Atlantic Leather Exhibit Hall. But the expo will feature more of a focus on art than commerce, with a large stage for shows and demonstrations, plus live DJs.
"This is a production, it's artistic," he says. "And that's what Saint-At-Large is known for — its 'strange live acts."'
The Black Party itself will be more elaborate this year, with a bigger production team, including a set designer. "Think Kiss of The Spider Woman, set in 1930s Argentina," says the party's director and scenarist Vance Garrett. "High concept, I know, but it seems to have all the ideas that we're working with — from tango, or I should say forbidden dances, to performers the club world has not seen before." In addition, Guy Smith returns for his always-dazzling lighting production, and New York's Hector Fonseca, Los Angeles' DJ Paulo and São Paulo's Ana Paula will serve as DJs.
Acid Betty will host both the party and the expo.
"My role is really just to create ambiance," says Ruhren. The 32-year-old graphic designer by day was once a dancer/choreographer in his native Southern California before moving to New York. But don't expect him to show off any fancy footwork.
"To be honest, in seven-and-a-half inch pumps, there's not much one can do," he says, laughing, "It's very dangerous."
The Black Party is Saturday, March 20, at New York's Roseland Ballroom, 239 West 52nd St. Doors at 10 p.m. Tickets are $125 at the door, which includes access to the Black Party Expo, set for noon to 7 p.m. The Expo costs $25 by itself. Visit saintatlarge.com.