What does one say about a musical whose leads include a man-eating plant? A musical that causes most people to think not of Broadway (or even the show's lengthy off-Broadway run) but of Rick Moranis and Steve Martin? A musical that was first a little-known cult movie, and then a musical, and then a mainstream movie hit (see previous statement about Moranis and Martin)? A musical that shamelessly – and with far more delight than anyone should really be allowed – rummages through science fiction pulp, 1950s horror films and every great Motown girls group to ever don a beaded gown? A musical that sneaks its way out of the theater in the form of catchy songs lodged hopelessly and firmly in the minds of every member of the audience like some kind of audio alien invasion.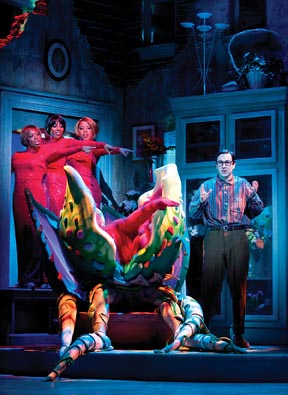 Little Shop of Horrors
(Photo by T. Charles Erickson)
You say it's fantastic.
You say it's Little Shop of Horrors at Ford's Theatre, and then you contemplate a return visit because you just can't get the song "Skid Row (Downtown)" out of your head.
Director Coy Middlebrook has created something bright and fun and utterly entertaining. Alan Menken and Howard Ashman's 1982 musical gets a gorgeous treatment, from scenic designer Court Watson's ingenious mechanized set to Karma Camp's smart choreography to Wade Laboissonniere's sometimes outrageous costumes. (For those of you wondering what it might have looked like if Jeannie from I Dream of Jeannie went on a mission with astronaut Tony Nelson – Laboissonniere has an answer.)
Seymour (Christopher Kale Jones) is a hapless schlub working in a flower shop on Skid Row. His boss treats him like dirt. He spends every day working alongside the girl of his dreams, Audrey (Jenna Coker-Jones), though she prefers the company of her abusive dentist boyfriend (Evan Casey). And the little ray of sunshine that seems to finally be shining on him – ironically coinciding with a total eclipse of the sun – may just destroy the entire planet.
Some guys can't catch a break.
Felicia Curry, Eleasha Gamble and Kara-Tameika Watkins play Ronnette, Chiffon and Crystal, Little Shop's do-wop Greek chorus. The three bring a little bit of glamour, a little bit of polish and a knockout vocal attitude that will set you back in your seat.
They are the perfect compliment to Jones and Coker-Jones' cartoon-styled performances as Seymour and Audrey, where nerd-accented nasal and gum-snapping breathless come together for some show stopping performances, especially "Somewhere That's Green" and "Suddenly, Seymour."
They're joined by an ensemble that includes Christopher Bloch as the money-hungry Mushnik, Casey as the dentist and "everyone else," and the team of Scott Hitz, Marc Petrosino and Elliot Dash giving life to "Audrey II." Dash is the voice while Hitz and Petrosino provide the motion in what will undoubtedly be the finest performance by a carnivorous plant in D.C. this season.
The idea of Ford's taking a run at Little Shop of Horrors may have sent chills down some spines when word first went out. But as we learn from the musical, sometimes you just don't get what it is you expect. This surprising idea is a monstrous success.
Brian Friel's Tony Award-winning play Dancing at Lughnasa, now on stage at Church Street with The Keegan Theatre, is like a page torn from someone's diary. It's a soft-edged thing that drifts in like a clear but elusive memory, and out like a sigh of regret.
But for all the play's wistful uncertainty and the story's unresolved wandering, Keegan's Dancing at Lughnasa is a lovely, perfectly balanced waltz. A company unafraid of mixing some rowdy stomping with a bit of warm nostalgia, the folks at Keegan have brought Friel's work vibrantly into being.
LITTLE SHOP OF HORRORS





To May 22
Ford's Theater
$10-$55
202-892-0202
fordstheater. org
Michael Evans's (Co lin Smith) mind has wandered back to the summer of 1936. It's the summer that Uncle Jack Mundy (Kevin Adams) returned from his mission work in Africa to live with Michael's mother Chris (Brianna Letourneau) and her four sisters. The summer the family spent some of the money Aunt Agnes (Elizabeth Jernigan) and Aunt Rose (Emily Levey) made knitting socks and gloves to buy a wireless set. The radio proves to be as te mperamental as everyone else in the household – becoming overheated and going silent. Suddenly springing to life and inspiring unexpected and much needed bouts of joy and dancing.
Of all the things there are too little of in the house, dancing is not one of them.
DANCING AT LUGHNASA




To April 18
Church Street Theatre
$25-$30
202-347-4833
keegantheatre.com
Smith has a unique and interesting role to play in Lughnasa. He speaks from just beyond the boundaries of things, never actually seeing himself as a boy in his memories but recalling every word that was spoken. It's a wonderful performance and Smith proves to be fantastically well-suited as he gives life and volume and heart to some of the show's most moving passages.
Letourneau, Jernigan and Levey are joined by Kerri Rambow and Susan Marie Rhea as the sisters Mundy. Theirs is a careful business of navigation as they quarrel without truly fighting. Tease without outright antagonizing. Frustrate without belittling. This talented group of actresses must, in short, become a family and it is a collaborative effort with rich results. They have a sharp dynamic and a wonderful chemistry. A particular tip of the hat must go to Rhea as the boisterous Aunt Maggie and Jernigan as the seemingly quiet sister, Agnes.
Dancing at Lughnasa and the Keegan Theatre are a match made – if not in heaven – at the very least in Friel's fictitious Irish town of Ballybeg.