You're getting married to have someone to hold your hand for better or worse. So why not hire a professional to hold your hand as you tie the knot? It can save you a lot of trouble.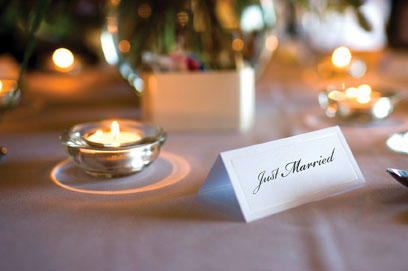 (Photo by Quavondo)
"You can absolutely do it on your own without the aid of a wedding planner," says LGBT wedding expert Kelly Prizel. "[But] having someone who's in charge, who all the vendors can go to on that day and not bother you, can make the day so much more relaxing for you."
In fact, a DIY wedding can end up costing more money since you don't have a planner's relationship to ask for discounts with vendors, from caterers to florists. It also requires more research, eating up more of your time. "DIY can mean a lot of heartache," Prizel says.
Prizel should know: She started the LGBT website SoYoureEngayged.com last year after planning her own wedding. "Cold-calling vendors was one of the hardest parts of planning my wedding," she says, "because I didn't exactly know if they would want to work with me."
In addition to a wedding blog, Prizel's strictly nonprofit site features a list of vendors who have been vetted to ensure they're gay-friendly and use gender-neutral language in all promotional materials.
"[A planner's] main goal is to make sure on your day, you are all smiles," says Mike Wilkinson, Director of GLBT Wedding Services for Event Emissary. Wilkinson, formerly special events director at Whitman-Walker Clinic, will work with you to plan every step of the wedding, from sending out invitations, to the type of ceremony you want, to actually getting your marriage license.
Wilkinson can pull together an event in only one month's time, though anywhere from three to 12 months of preparation is ideal. The biggest expenses at any wedding are the venue rental and food and beverage costs. Expect to spend between $250 and $350 per guest at your wedding, says Wilkinson.
Prizel notes you can also go with a "day-of" planner, who will handle just wedding and reception logistics, for a cost of between $600 to $1,000. But, she cautions, you should approach the wedding as a socially responsible investor would.
"You're investing this money with a bunch of different vendors," she says, "so you want to make sure that they are helping to promote LGBT equality. You want to make sure you're [paying] someone who is really excited about your wedding day."