A day that began with the formality of a "Don't Ask, Don't Tell" (DADT) Senate hearing took a turn for the dramatic Thursday with the arrest of activists at the White House — and a bit of celebrity in between.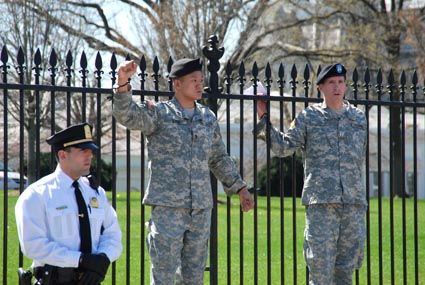 Dan Choi (left) and James Pietrangelo II protest DADT at the White House
(Photo by Todd Franson)
The morning's Senate hearing featured former Air Force Maj. Michael Almy and former Navy Lt. j.g. Jenny Kopfstein, two clients of Servicemembers Legal Defense Network (SLDN), testifying before the Senate Armed Services Committee on the morning of Thursday, March 18.
While such a hearing is business as usual in Washington, the Human Rights Campaign's highly orchestrated noontime rally on Freedom Plaza featuring Kathy Griffin's was not. Griffin, a two-time Emmy winner, remarked that her appearance at the rally capped a week of lobbying against DADT on Capitol Hill.
Local gay singer-songwriter Tom Goss kicked off the rally with a tune called "Who We Are," specifically written for the cause to repeal the policy.
Griffin was joined onstage by Army Lt. Daniel Choi, among others. Choi, an Arabic linguist who came out in 2009 during an appearance on The Rachel Maddow Show, has since taken an aggressive, public stand against the DADT policy. He contrasted Griffin's appearance by reminding the few hundred people at the rally that "this is not a joke."
"I'm not asking," Choi declared in what has become his oft-repeated refrain, "I'm telling!"
The rally also included appearances by openly gay veterans Eric Alva and Alex Nicholson, along with HRC President Joe Solmonese and others.
At the rally, Choi informed the crowd that he intended to bring the protest to the White House immediately following the rally. He did just that, walking the few blocks to the White House where he and veteran James Pietrangelo II, also gay, chained themselves to the front-lawn fence of the White House fence.
Pietrangelo is a former Army infantryman who was one of a dozen plaintiffs in a lawsuit initially brought by SLDN. In a dispute with the group, however, he parted ways with SLDN when he attempted to have the case heard by the U.S. Supreme Court — a move opposed by SLDN and the other 11 plaintiffs it represented. Then, following Pietrangelo's objection, SLDN removed itself from the case entirely. The Supreme Court declined to hear Pietrangelo's case in June 2009.
With the White House as the backdrop, roughly a hundred onlookers chanted slogans demanding immediate repeal of the DADT policy. At one one point, Choi quieted the group and led them in a recitation of the Pledge of Allegiance. Soon thereafter, police removed all bystanders from Pennsylvania Avenue, directing them to Lafayette Square adjacent.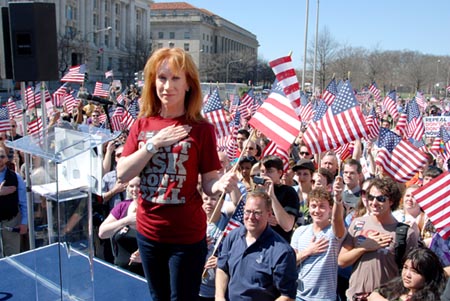 Kathy Griffin pledges allegiance at Freedom Plaza rally
(Photo by Todd Franson)
Just before 2 p.m. — following three warnings from police instructing the pair to remove themselves from the fence — the two were arrested. Police removed them from the fence and escorted them into a United States Park Police van.
Choi and Pietrangelo were not the only activists arrested outside the White House Thursday. Robin McGehee, who helped coordinate October 2009's National Equality March in D.C., was also arrested. She is a leader of the recently formed Get Equal organization, the mission statement for which reads, in part, "I will not accept excuses, delays, compromises, or empty promises, and I will hold accountable any person or organization who stands in the way."
It was not readily clear why McGehee was arrested.
Before being placed in a Metropolitan Police Department car, McGehee said, "I think this is an injustice.
"I helped put President Obama in office and I believe what's happening in our country is not what he wants. I want him to be the fierce advocate that I elected."
Although not critical of Choi's actions, HRC spokesman Trevor Thomas noted that not everyone at the rally went to the White House action that followed.
"Joe Solmonese along with Eric Alva and others felt it was important to stay and engage those at the rally in ways they can continue building the pressure needed for repeal," Thomas said in a post-rally statement. "This does nothing to diminish the actions taken by Lt. Choi and others. This is the nature of social change and everyone has a role to play."
Yusef Najafi contributed to this story. For more pictures from today's DADT events, visit Metro Weekly's Scene page.