"I didn't realize how many salseros we have out there," says J. Martin.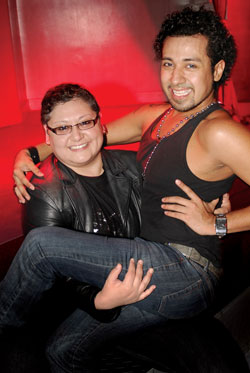 Cobalt's Salsa
(Photo by Ward Morrison)
After repeated requests from the community, the lesbian Latino party promoter teamed up with Cobalt last month to start Salsa, a gay party focused on the Cuban-derived music and dance known by that name. Salsa takes place every Monday, a night when several straight venues were already throwing popular salsa parties. Martin and her LatinSoulDC entity did them one better, hiring gay dance instructor Orlando Machuca Jr. to give free lessons.
"It's a great opportunity to get the basic steps in and feel comfortable with it," says Martin. "It's a great dance. It looks very good on the dance floor."
Cobalt's Mark Rutstein says the party is just one more example of how the club is "diversifying, serving as an entertainment venue for all sides of our community." Rutstein notes that the bar is running dollar drink specials during Machuca's lessons from 10 to 11 p.m. to help ease "salsa virgins" into the dance. The downstairs restaurant Level One also serves Latin-style dishes on Mondays to complement the party.
In many respects, the atmosphere intentionally echoes a former 17th Street venue. "My first club was Club Chaos," says the 36-year-old Martin, who grew up in Fairfax and is of Peruvian descent. "I was there every Thursday night. Chaos stood out because it was Latin, but not strictly Latin. It was open to everybody.
"Everything that I do and all the parties that I promote, my goal is to try to bring some of the Chaos magic back," she continues. In addition to Salsa, Martin promotes Tabu at Terra Mare in Falls Church on Thursdays and is currently lining up a Saturday party in D.C.
But neither of those focus strictly on salsa, Machuca's specialty. Martin recalls one patron at Salsa who could dance but had trouble with his turns.
"Orlando took the time, got him up to par," she says. "Next thing you know, he was just spinning away."
Salsa happens every Monday starting at 10 p.m. at Cobalt, 1639 R St. NW. Cover is $5. Visit latinsouldc.ning.com.