"I think if one were to ask Andy Warhol about the impact he's had on Josh Kornbluth in finding his Jewish identity, he would be both flummoxed and bemused," says David Dower. "It wasn't the point."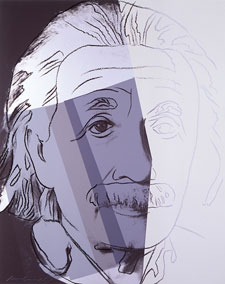 The late, gay Warhol, raised Catholic, had other intentions for his art. For starters, he was determined to live in infamy, well beyond "famous for 15 minutes," the ubiquitous phrase he coined. In fact, Warhol serves as inspiration for Kornbluth's latest comedic monologue — Andy Warhol: Good For The Jews? — developed with Dower, who serves as director. The play is having its world premiere this weekend at Theater J.
Kornbluth (Citizen Josh) was commissioned by the Contemporary Jewish Museum of San Francisco to write a monologue riffing on "10 Portraits of Famous Jews," a 1980 exhibit by Warhol, who didn't only paint soup cans or money it turns out. He also painted Jews.
"It's a somewhat random collection," says Dower. "Warhol was roundly criticized for just being a money whore at the time, only doing it because he knew [the portraits] would sell." But the short-lived exhibit of such notables as Albert Einstein, George Gerswhin, Golda Meir and Sarah Bernhardt was popular. (The exhibit is currently on display at the DCJCC, in tandem with the show's run.)
"This is the first time [Kornbluth's] actually talking about his life as a Jew," says Dower, who has worked with the San Francisco-based performer on three previous autobiographical monologues as well as two films. "All of his stories have been about being raised an atheist and a communist, with an actively ambivalent relationship to money."
Dower, raised Episcopalian, says the whole process, especially in "putting all these days and nights in understanding Josh's Jewish identity," has been fascinating. And the play's title?
"It's both weighty and whimsical," says the director. "It's a Kornbluth recipe."'
Andy Warhol: Good For The Jews? runs from March 6 to March 21 at Theater J at the DCJCC, 1529 16th St. NW. Tickets are $30 to $55. Call 202-777-3210 or visit theaterj.org. The Warhol exhibit runs through May 2 at the DCJCC's Ann Loeb Bronfman Gallery.