Nicholas Rodriguez has toured as the King of the Jews (Jesus, in Jesus Christ Superstar) and appeared on Broadway as the King of the Apes (Tarzan). He's performed in the off-Broadway glow of The Toxic Avenger and basked in the super diva wattage of Evita while performing the role of Che. But it's the time he spent in Llanview that gets him recognized.
"People will be looking at me and then they'll say, 'Are you Nick?' But they don't mean me. They mean Nick from the show."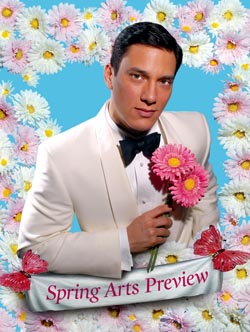 Nicholas Rodriguez
(Photo by Todd Franson)
The show is One Life to Live, and the Nick they mean is Nick Chavez, a character originally intended to appear in just four episodes of the soap opera who ended up causing a stir for some seven months. A character that, actually, wasn't supposed to be there at all.
"The role of Griffin Long came along," recalls Rodriguez. "He was supposed to be this Caucasian, All-American, wholesome guy and for some reason they called me in for it. There were all these blue-eyed, blonde-haired hunky dudes and somehow I got it.
"The name quickly got changed to Nick Chavez," Rodriguez continues with a laugh, "because apparently I don't look like a Griffin."
The casting of openly gay actor Rodriguez as Chavez meant something more than the addition of another good-looking man to the citizenry of one of Pennsylvania's best-known fictional towns. Chavez was to be the third leg in a daytime television love triangle made up of three men.
"It was kind of a snowball," says Rodriguez. "The character was just supposed to come in and get between [same-sex couple] Kyle and Fish and go away. But people liked it and everything started to happen really fast. They started writing new scenes and tackling all these subjects. I didn't have time to think about being out actor Nick Rodriguez playing a gay character. I was just supposed to be there for four days.
"What was interesting was to see people's reactions who weren't necessarily in the 'gay triangle' who wanted to be. Especially when we were dealing with marriage rights in the election year and certain actors had very specific viewpoints. People who had been on the show for 17 or 18 years were able to say, through their characters, 'I support gay marriage."'
And while, in classic soap opera fashion, Rodriguez's Chavez was left at Llanview's mass wedding altar as true love prevailed, the impact of the near-wedding and the role of Nick Chavez has continued.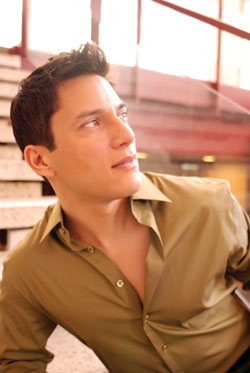 Nicholas Rodriguez
"In New York I had this one kid come to me and say, 'I watched you propose to that boy with my grandma.' This gay, 13 year-old boy was so excited that he got to see a man propose to another man. It was so incredible."
Since doing One Life to Live, Rodriguez has volunteered for several youth organizations, a cause important to him. "We're able to be out and have more of a presence as a gay community," he says, "and kids are able to come out earlier and earlier. But then what happens to them? Some of them get kicked out and bullied in school. While I'm excited that they're able to come out at 10, 11, 15, 16 they still need guidance. These kids need role models."
It's not difficult to see this man from Austin as a role model. A guy who went from teaching junior high in Texas to heading to New York with, as he puts it, "two suitcases and a checkbook." An actor whose path has brought him from being a sixth-grader sitting in the audience of Ain't Misbehavin' to Broadway to the lead in Arena Stage's new chamber-version of the musical The Light in the Piazza.
This more intimate adaptation of Craig Lucas and Adam Guettel's Tony Award-winning musical is now playing in Arena's Crystal City performance space. Rodriguez, who has high praise for both Arena and Artistic Director Molly Smith, plays Fabrizio, a handsome young Italian who falls instantly in love with Clara, an American girl touring Tuscany with her mother.
"There's a line in the show that gets me every time. Clara sings it in the first act. 'This is wanting something, this is reaching for it, this is holding breath and keeping fingers crossed.' It's the most gorgeous sentiment ever. You can want something as much as you want it, you can go for it with all your might but still you've got to keep your fingers crossed."
Nicholas Rodriguez stars in The Light in the Piazza, now through April 11 at Arena Stage in Crystal City. Visit arenastage.org.