There is nothing small about the musical The Light in the Piazza. The songbook is page after page of grand gestures, ornate flourishes and the kind of sweeping emotions that conjure romantic visions of the golden age of musical theater.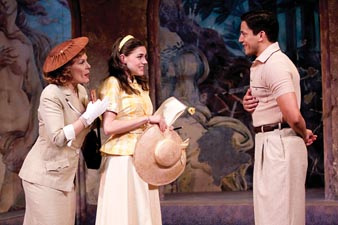 Piazza pie: Resnik, Florence and Rodriguez
(Photo by Scott Suchman)
The story the show tells is built on dark family secrets, the lightning strike of love at first sight and those explosive emotional twins, hope and frustration. Piazza unspools itself among the monuments and bustling streets of 1950s Florence, Italy. Hearts are won and broken in the long shadows of ancient statues, historic cathedrals and crumbling ruins.
No, there is nothing small about The Light in the Piazza. So how is it that Arena Stage's "chamber" version of the musical works so well? Is it the strength of the cast artistic director Molly Smith has brought together on the close quarters of Arena's Crystal City stage? Is it the cunning design decisions made by Anne Patterson, who has conjured a set capable of transforming a few square feet into an utterly convincing dash down a dark, forbidden alleyway? Or is it the great intimacy evoked by this interpretation of Craig Lucas and Adam Guettel's Tony Award-winning Broadway musical? There is an undeniable charge to being in such close proximity to the actors. A feeling of immediacy and connection that tightly ties audience and actor.
Some will tell you that The Light in the Piazza is a love story involving Clara (Margaret Anne Florence), a young American girl, and Fabrizio (Nicholas Rodriguez), a handsome Italian she meets while on a holiday tour. This is partly correct. The Light in the Piazza is a musical about love. It does involve two young people who fall instantly and completely for one another. But there is another affair at work.
Clara's mother Margaret (Hollis Resnik) is the parent leading this European vacation while her husband remains in Winston-Salem, N.C., tending to business. It's a chance for mother and daughter to get away and visit the sites Margaret first saw after she and Clara's father were married. And so, as much as she would like it to not be the case, Margaret finds herself alone and trapped between two very different love stories.
Resnik brings Margaret vividly and compassionately into being. She is utterly mesmerizing in her performance of the haunting "Dividing Day." It's a brilliant performance by an actor of phenomenal talent.
Equally impressive is Rodriguez as the young Fabrizio. With a voice that moves deftly from unbridled celebration ("Il Mondo Era Vuoto") to heartbreaking wail ("Aiutami"), Rodriguez brings depth, passion and great charisma to the stage. He and Resnik are joined by a truly brilliant cast of supporting players. Mary Gutzi and Ken Krugman are wonderful as Fabrizio's parents, Gutzi with droll humor and Krugman a sly charmer. Jonathan Raviv wonderfully despicable as Fabrizio's oily brother and Ariela Morgenstern a delight as the jealous sister-in-law.
If there is a member of the cast who seems to still be finding her way it's Florence. Occasionally unsteady of voice though positively radiant in appearance, Florence is sometimes swept up in the powerful wake of her exceptional cohorts.
But these moments are simply slight cracks in an ultimately beautiful production. Arena Stage has indeed brought a very bright Light to Crystal City.
THE LIGHT IN THE PIAZZA




To April 11
Arena Stage
$25-$74
202-488-3300
arenastage.org
Performer and playwright Josh Kornbluth opens his one-man show Andy Warhol: Good for the Jews? by turning to his audience and saying, "I don't get it."
He's referring to the 10 portraits projected on 10 equal-sized, evenly spaced canvases hung on the wall behind him, images of Andy Warhol's 1980 series "Ten Portraits of Jews of the Twentieth Century." However, the statement might well be the thing that most sticks with some members of his audience when reflecting on their evening with Kornbluth. "I don't get it."
True, that could be said of just about any play or musical or artwork. Some people just aren't going to get it. But here's the thing about Josh Kornbluth. It feels like he might just be okay with the idea that some folks will leave Theater J scratching their heads over this monologue that is part art-hi story lesson, part Jewish-history lesson, part personal memoir, part cocktail chatter and part — well, part a collection of cringe-inducing jokes that you laugh at despite yourself. See, if you leave the theater not getting it, you're still thinking about what it is you heard.
ANDY WARHOL: GOOD FOR THE JEWS?



To March 21
Theater J
$30-$35
800 494-TIXS
theaterj.org
And that prolonged fascination is Kornbluth's stock in trade.
Written as a response to Warhol's work – a collection of silk screens that earned the distaste of critics and the adoration of the "synagogue circuit" – Good for the Jews? wanders everywhere from how Warhol selected his subjects ("I knew we were the chosen people, I didn't know Andy Warhol would be doing the choosing") to Kornbluth's own childhood as a student at St. John the Divine Episcopal Choir School. From the possible reason why there are 10 portraits in the series (in the Jewish tradition 10 is referred to as a "minyon", the number needed "to start") to Warhol's relationship with his own mother.
Good for the Jews? plays like the most skillful of autobiographical pieces. It's a narrative built from a seemingly disparate assortment of stories and ideas brought into careful, meaningful alignment by Kornbluth. Unforced, and disarmingly spontaneous in tone, Kornbluth is personable and unquestionably entertaining.
And if, at the end, you don't get it, don't let it worry you. After all, there's a question mark in the title.
It seems Josh Kornbluth is still trying to figure it out too.