"Grease has something to say about the family we choose," says Jeff Buhrman. "GLBT people understand that concept about choosing our family, defending each other. It's all in this musical — you've just never seen it that way before."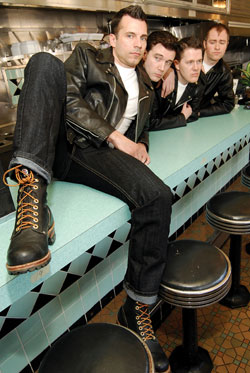 Gay Men's Chorus of Washington: Grease
(Photo by Ward Morrison)
Certainly you've never seen Grease the Gay Men's Chorus of Washington's way — a new all-male production based on the original 1972 Broadway version. "Over the years Grease has been sanitized," says Buhrman, GMCW's artistic director, noting that the original "is a little more aggressive, raw, and a little raunchy."
GMCW is the only gay men's chorus in the country that produces fully staged Broadway productions. In this case, they'll offer "a few surprises," but mostly stick to the original script, set in a high school in the late-1950s and featuring the hits "Greased Lightning" and "Summer Nights." With one major tweak: The entire high school is gay.
"Our characters confront and cope with a society that doesn't always accept or understand them," says Buhrman. "But they deal with some of the same relationship troubles that confront everyone, gay or straight."
High school is an especially trying time for gay people — even now, in a time of increasing gay-straight alliances. Buhrman notes that the leads in Grease are all played by younger members of the organization, not far removed from high school. But real life today is still no match for a stage fantasy. Buhrman recalls one of the young leads remarking in rehearsal about the difference: "Instead of being totally insecure about his sexuality, he can be the average angst-y teen."
Ultimately, says Buhrman, "it's a very affirming show. We have this high school where a boy can have a crush on another boy, and not be bullied because of that."
Grease will be performed on Friday, March 19, and Saturday, March 20, at 8 p.m., and Sunday, March 21, at 3 p.m. Lisner Auditorium, The George Washington University, 730 21st St. NW. Tickets are $20 to $50. Call 202-293-1548 or visit gmcw.org.