Rather than contention, Metropolitan Police Department (MPD) officers and members of the local LGBT community were greeted with chocolate cupcakes, sandwiches and live music on Thursday, March 25, in the activity room of The Center, D.C.'s LGBT community center.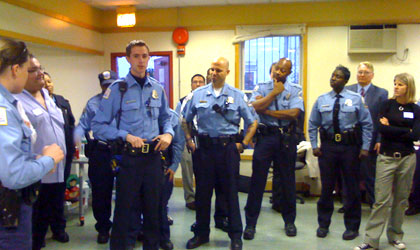 GLLU officers
(Photo by Yusef Najafi)
Despite months of friction between MPD and the community, the mood that night was convivial as many of the 23 new affiliate officers of the MPD Gay and Lesbian Liaison Unit (GLLU) mingled at the event organized by The Center, Rainbow Response and Gays and Lesbians Opposing Violence (GLOV).
The tension between MPD and the local LGBT community has been a result of what some local activists describe as a lack of communication, as well as a lack of information that MPD Chief Cathy Lanier's plan to expand the GLLU will play out without disbanding the central unit. Lanier has stated a plan to take the much-lauded GLLU, once a Dupont Circle-based entity with seven dedicated officers and a sergeant, and make it a less-centralized group of many more officers who have GLLU training, but maintain their regular duties in various parts of the District.
Local gay singer-songwriter Tom Goss kicked off the gathering by performing two love songs. Kelly Pickard, new co-chair of GLOV, then welcomed the officers.
"While we may occasionally disagree with your superiors and your management, it's never a reflection on our belief that you're heroic in what you do, day in and day out, that we need you, and that we'll always work with you … in reducing and solving hate crimes in the LGBT community," Pickard said.
Rainbow Response co-chairs June Crenshaw and Amy Loudermilk also greeted the officers.
"It's not a secret that we've had some challenging relationships in the past, but we want to work towards improved interaction," Crenshaw said.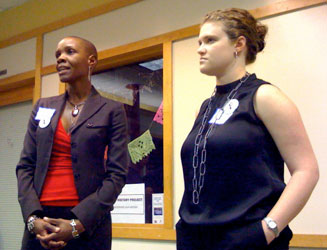 Co-chairs of Rainbow Response: June Crenshaw (left) and Amy Loudermilk
(Photo by Yusef Najafi)
As the dozens of attendees stood in a sort of conversation circle, all facing one another during the introductions, Amy Loudermilk's comments garnered the most attention.
"I know so many people decided to join the GLLU because of that $10,000 extra bump in your salary," Loudermilk joked to assorted tittering, "so I understand you. But this is why we held this event, to say thank you, and we know why you're doing this, and it's not for an extra $10,000 … because you care."
Assistant Police Chief Diane Groomes, who confirmed there was no financial incentive for officers to receive GLLU training, was impressed by the turnout as well as by the interaction.
"It always bothers me when I go to events and I see [officers in] blue, and I see the community," she said, gesturing to opposite ends of the room. "When I walked into this room tonight, I wanted to say 'thank you' to the officers, because I didn't see that. I actually saw 'meet and greet' and mixing going on."
Clarification: In its original form, this story did not make clear that Loudermilk's mention of financial incentive for officers to receive GLLU training was made in jest.