Terrence McNally was angry with John Glover.
"So, what's going to happen? I've called and offered you this part and I haven't heard from you," Glover recalls McNally's voicemail message last summer. Glover was terrified of taking on the role of Mendy in McNally's The Lisbon Traviata. It's a role that helped propel Nathan Lane's career 21 years ago.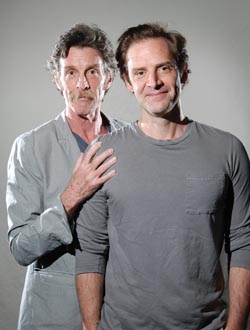 John Glover and Malcolm Gets
(Photography by Todd Franson)
"I've worked with Nathan three times, I know what an incredible actor he is, and I know his reputation in this role," says Glover. "And plus the fact that I knew nothing about opera, I thought, no way." But McNally persisted, telling Glover, "'If you're so afraid of something, isn't that the reason you should do it, to attack the challenge?"'
Glover stars in the revival, now running as part of the McNally three-play festival "Nights at the Opera" at the Kennedy Center, with Malcolm Gets. The two portray best friends who share a passion for opera, and in particular diva Maria Callas.
Unlike Glover, Gets grew up in Florida an opera buff — and a fan of Callas. "When I was a boy I was kind of obsessed with opera at a very young age," he says. But joining his father on business trips to Manhattan and seeing Broadway shows did him in. "I was on the road to becoming a concert pianist but got bit by the theater bug early, and then sort of found my way into the theater by playing the piano." He started acting in musicals once it was discovered the pianist could sing.
Both Glover, 65, and Gets, 46, have a long history of acting together, having even starred together once before in a McNally play, 2006's Some Men.
"I love playing with Malcolm," says Glover. "And it feels like that's what we're doing, playing. When you find an actor you can play with, it's amazing." Glover has starred in several McNally plays, including both the 1994 Tony-winning stage and 1997 film versions of Love! Valour! Compassion! McNally wrote the part of the Jekyll twins with Glover in mind — and Glover won the Tony. On what distinguishes a McNally play, Glover says: "I sometimes call it Irish mysticism. It's like the soul of his writing starts seeping into your body. There's an organic feeling to it."
Says Gets: "Terrence has so much of a musician's sense, there's a lot of music in his writing."
With McNally's The Lisbon Traviata, Glover and Gets are two openly gay actors playing gay characters in a play by an openly gay playwright. "My word, imagine that!" responds Glover. And it is still a bit shocking how novel that reality is. Gets compares the entertainment industry's approach toward gays to the military's "Don't Ask, Don't Tell" policy. At least the perceived risks of being open seem as consequential.
"There was sort of this understanding that as long as I didn't talk about it with the press, then it was never official that I was gay," says Gets. "So it was just a question of when I actually said it in print. [That policy] causes so much unhappiness. I see so much damage done to such great, good, really earnest people's lives."
Glover, who starred in 1985's An Early Frost, the first television film to tackle AIDS, says he never officially came out: "I never made a big, huge statement like Ian McKellen, but at a certain point it just got to be tiresome." Both men are in long-term relationships — Glover lives most of the time in Los Angeles with his partner of 17 years, Gets in New York with his partner of 11 years.
Neither suffers through the drama of The Lisbon Traviata's second act, when the relationship between Gets' character, Stephen, and Mike, played by Manu Narayan, falls apart. "Stephen is a man who has been well-educated and done well in the world," says Gets. But "his tidy, organized existence just completely starts to unravel, and that's where the drama stems from."
Gets stresses the play is very funny. "It's certainly very, very, very humorous," he says. "Hopefully [audiences will find] humor in the second act too, though it takes a decidedly darker turn."
Both actors are known for comedy work — Gets is probably best known as Richard Karinsky in the '90s television sitcom Caroline in the City. And though Glover is current ly visible as the hard-to-like Lionel Luther on Smallville, he has starred in his share of comedies. He got turned on to acting in the first place by making kids laugh in his Salisbury, Md., high school, playing the lead in Oscar Wilde's The Importance of Being Earnest. "I guess that did it," he says. "This shy little guy who was always real quiet, but on stage I felt I had some control, because I would do things and people would laugh ."
In the end, Glover took right to the challenge of playing a man obsessed with Maria Callas in The Lisbon Traviata.
"I grew up as a kid with Doris Day. Doris Day was my one," says Glover. "At one point Terrence said to me, 'Listen, just replace in your mind Doris Day and you'll understand what's going on.' But the more I learned about Callas, the more fascinated I became with her.
"Now, I feel the same way about Callas [as Day]. I mean, it's just amazing."
The Lisbon Traviata runs to April 11 at the Kennedy Center Terrace Theater. Tickets are $55 to $65. Call 202-467-4600 or visit kennedy-center.org.
This is a three-part feature article that also includes: