In the words of Led Zeppelin, "Upon us all, a little rain must fall." And so it does, briefly, at the beginning and end of Bruce Norris' Clybourne Park, an exceedingly clever, high-octane piece on neighborhood race relations past and present. Though the play is full of wit, gleeful irreverence and merciless parody, the rain poignantly connects us to the tragic back-story haunting the characters and the property over which they battle. It reminds us that though we may argue all day about injustice, misunderstanding and what we choose to call the politically correct, grief and loss will transcend it all. It is not often a playwright can mix so much humor and savvy topical entertainment and yet successfully and honestly reference emotional despair.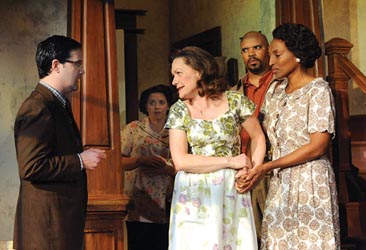 Clybourne Park
(Photo by Stan Barouh)
Set in the living room of a cleverly rendered Sears-type bungalow, Norris places Act One in the 1950s and Act Two in the present day. In both eras the house has just been sold and various community members have gathered to discuss issues regarding the new owners. As the characters begin to cajole and battle one another over their concerns for the future of the neighborhood, race, community values and the capacity for humans to rationalize leap into stark, often funny, view. And even if we have seen many similar scenarios on stage and screen, Norris delivers his version with a sophistication of wit, insight and emotional honesty that takes it head and shoulders above the rest.
As if born to work the mercilessly taut and clever script, the ensemble cast is gloriously simpatico with one another and Norris' subversive sense of humor. Conquering two very different and complex roles is Cody Nickell who never lets his apt portrayals fall into caricature.
Also credibly shape-shifting is Jennifer Mendenhall, moving between the fragile Bev of the 50s and the hilariously contemporary Kathy with great dexterity. Riveting Dawn Ursula adds a necessary quotient of ambivalence to both her women, even though Norris keeps these characters somewhat schematic. Mitchell Hebert is unsettling and effective as an angry, grieving father who couldn't care less who buys his house.
CLYBOURNE PARK




To April 11
Woolly Mammoth
$40-$62
202-393-3939
woollymammoth.net
Rounding out the cast is Michael Glenn, a true team-player, and a charismatic Jefferson A. Russell, making a subtle but clever transformation through the ages. Director Howard Shalwitz has nurtured these great performances while giving Clybourne Park superb rhythm and a blissfully restrained choreography. All told, the only fault here is Norris' tendency to protect his African-American characters from the failings of their white counterparts which, knowing human nature, beggars some belief. This aside, plays just don't get any better the Clybourne Park.
Another ensemble production — this one unfortunately at the other end of the spectrum — is Terrence McNally's latest, Golden Age, in which we watch the famous 19th century composer Vincenzo Bellini angst backstage along with his favorite singers while his latest (and last) opera I Puritani premieres audibly but out of sight. While the idea of exploring all the drama, antics and general bad behavior such a gathering might have generated is full of promise, McNally's interpretation simply fails to deliver. Though obviously intended to be glib, ever-so-clever and reflective of suffering for one's art (and ego), there is little here in the way of fresh or original wit and the attempts at more serious moments make the Phantom of the Opera look like genuine pathos. Almost.
The only thing to keep one from leaving at intermission is Jeffrey Carlson, delivering the kind of razor-timing, dead-pan and general campiness the piece requires. Along with getting the tone right, Carlson exudes a pleasing unpredictability which he never lets detracts from the work of the ensemble. Unfortunately, there isn't much in the way of ensemble with which to connect, since McNally writes this more as a series of vignettes than as a progression of interlacing or evolving relationships. Though Carlson delivers the best performance in this context, not too far behind is Amanda Mason Warren as the visiting diva Maria Malibran. Though unable to consistently project the necessary larger-than-life persona of this apparently formidable woman, Warren nevertheless has an a ffecting and compelling stage presence, which is better than nothing. Sadly, it cannot save the not one but two protracted scenes in which she briefly steps in for the soprano Giulia Grisi, who's singing I Puritani.
GOLDEN AGE


To April 4
Kennedy Center Family Theater
$25-$49
202-467-4600
kennedy-center.org
Playing Tamburini with the larger-than-life grandeur of musical theater is a confusingly hirsute Marc Kudisch, about much a Golden Age opera singer as the guy who fixes your Harley. Though clearly subtler when he's acting elsewhere, Hoon Lee holds his own as Lablache even when forced to desecrate lines from King Lear at top volume. Trying very hard but still sounding like he's reading from the script, is Roe Hartrampf as Florimo, Bellini's supposed lover. And seriously bringing up the rear is Rebecca Brooksher as Grisi, who spends most of time yelling poorly enunciated diatribes in the manner of Queenie from Blackadder — except that it's not funny.
With so little to work with and an apparently in absentia director, it's hard to blame the cast for defaulting. McNally has turned these no-doubt fascinating personalities into stocks who do no more than narrate themselves between gag-worthy edicts such as "This is why I write opera!" The only other thing that surfaces here is McNally's obvious, and obscenity-laden, loathing of critics. Well, this See You Next Tuesday says: see the opera, not the play.