Just what is Sade's problem? Some might question why it took the singer Helen Folasade Adu — Sade for short — a decade to return to making music, and then only after coaxing from her bosses and bandmates. But that's really just an issue for her label. It's certainly not troubling the public: Soldier of Love became her first album to debut atop the charts, and it remained in the top spot for three weeks, having just recently fallen to No. 2. That's a stronger showing than her more ubiquitous, more prolific peers in the past year, from U2 to Mariah Carey, and it's on track to become as big as her 1985 American debut. Ultimately, she can take as long as she wants if she maintains quality.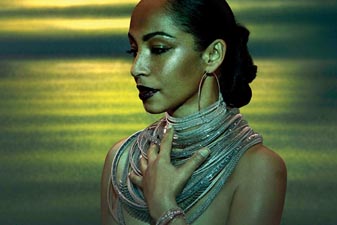 Sade
(Photo by Sophie Muller)
But why does she seem so troubled, love-weary and battle-scarred?
"You left me there dying, but you'll never let me go," she sings on the wan album opener "The Moon and The Sky." "I've lost the use of my heart, but I'm still alive," she sings on the very next track, the album's marvelous marching title track. From near-death to heartless, ready for war: "I'm at the borderline of my faith, I'm at the hinterland of my devotion, the frontline of this battle of mine."
Sade troops off to and from war on repeated occasions throughout the new set. She ends it by noting that she's ready to surrender to love again. "My heart has been a lonely warrior, who's been to war," she sings on "The Safest Place." "So you can be sure, your love's in a sacred place."
Obviously, Helen Folassade Adu has had a rough go with love. Well, not so obviously: The 51-year-old British singer of Nigerian descent is exceptionally private about her life, as reclusive as an artist can be. To promote the new album Sade performed on various television shows — and the band may yet tour — but she granted painfully few interviews. In the most revealing one, The New York Times reported that she has been in seemingly romantic bliss for five years, living in seclusion in rural England, where she and her lover are raising her 13-year-old daughter and his 18-year-old son. Also, over the past decade Adu spent time caring for someone close to her, who died of a terminal illness. Remarkably, she wouldn't reveal to the Times this person's identity or relationship to her. She would only allow that the past decade has been a "rugged roller-coaster ride" and that the album serves partly as a "purging of all the things that have gone on."
Okay. But people are interested in other people and other people's experiences — that's how we learn and develop. Surely I'm not the only one who thinks it a bit selfish of Sade to be so overly guarded at the same time she's seeking public notice of her music. Especially since her lyrics suggest she has a lot of direct wisdom to impart.
But if we have to stick to her indirect observations — if we must keep the focus strictly on her music — well, there can be little debate. Soldier of Love is altogether a stunning collection. Once you get past the first track and a couple other yawning numbers in the set's first half, you'll no doubt warm to Sade's cool, quiet storm. The set simpers its way into your favor. Her husky alto is still a smooth operator, gently gliding over her patented blend of R&B, reggae, jazz and pop.
Perhaps the most striking thing about Soldier of Love is its finely honed, understated orchestration. Did you forget Sade is actually a band? Stuart Matthewman on guitar and saxophone, Andrew Hale on keyboards and Paul Denman on bass, all three have supported Adu from the beginning; they mostly just bided their time waiting for Adu to emerge from reclusion. And just as Sade wouldn't be Sade without Adu, the new set argues that Adu wouldn't be Sade without the band. The mid-tempo mourner "Bring Me Home," for example, would wallow in slumbering indulgence without its light percussive snap and pop — or the flute that evocatively closes the track. And while the lilting "In Another Time" may be a tad sleepy, it's far more buoyant — and elegant — than it needs to be for a smooth-jazz jam.
SADE
Soldier of Love
Epic
$13.98




There are a couple standout songs on Soldier of Love beyond the title track, of which it's hard to say too many good things. You could similarly wax rhapsodic about the sweet, breezy "Babyfather," which gains even more charm as you learn it's Adu's daughter and Matthewman's son chanting the key refrain: "Your daddy love come with a lifetime guarantee."
And then there's the mournful "Long Hard Road," which sounds like something from Cesaria Evora. Here, Sade offers characteristically guarded optimism. "There's a long hard road ahead," she sings, "but a voice inside me said…it's gonna be alright." Even if you don't know her road or the way ahead, on Soldier of Love, she's right.