Less than two weeks after retired Gen. John J. Sheehan told the Senate Armed Services Committee that a Dutch general had told him that openly gay service in the Dutch military played a role in the 1995 massacre of Muslims in Srebrenica, Sheehan found himself apologizing to the Dutch general in question.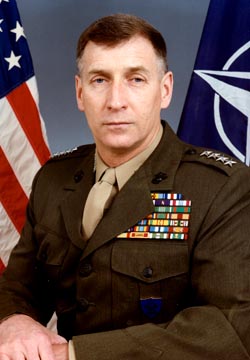 Gen. John J. Sheehan
Despite the apology, however, he has not yet corrected his testimony to the committee.
In a March 29 letter, made public the following day, Sheehan wrote to retired Dutch Gen. Henk van den Breemen, "I am sorry that my recent public recollection of those discussions of 15 years ago inaccurately reflected your thinking on some specific social issues in the military."
The letter to Breemen, however, did not alter the testimony given by Sheehan. In a response from the Senate Armed Services Committee, a spokesman told Metro Weekly via e-mail, "We have not received any communication from Gen. Sheehan, at least not yet."
At the March 18 hearing, Sheehan told the committee that Dutch leaders, referring to openly gay military service, had "included that as part of the problem." Committee Chairman Carl Levin (D-Mich.) was incredulous, and he followed up on the claim by asking Sheehan for the names of those Dutch military leaders who had said so. It was at that point that Sheehan named Breemen.
Within hours of Sheehan's testimony, however, Levin released a statement from the Dutch ambassador to the U.S. flatly rejecting the claim.
"The military mission of Dutch UN soldiers at Srebrenica has been exhaustively studied and evaluated, nationally and internationally," Ambassador Renée Jones-Bos said in the statement. "There is nothing in these reports that suggests any relationship between gays serving in the military and the mass murder of Bosnian Muslims."
As reported on March 19 in Der Spiegel newspaper, "Dutch Defense Minister Eimert van Middelkoop issued a statement calling the remarks 'outrageous and unworthy of a soldier.' He went on to say, 'I do not want to waste any more words on the matter."'
Sheehan wrote to Breemen, "It is also regrettable that I allowed you to be pulled into a public debate."
Sheehan went on in the second paragraph of his letter to restate the argument he had made to the Senate committee – without pulling back completely from his earlier comments.
"To be clear, the failure on the ground in Srebrenica was in no way the fault of the individual soldiers." Saying that the orders of commanders in the field were "based on the priorities of the political authorities," Sheehan wrote, "Unfortunately, the rules of engagement were developed by a political system with conflicting priorities and an ambivalent understanding of how to use the military. As we know, the consequences of those compromises were devastating."