Since Sen. Carl Levin (D-Mich.) first began hearings last month on the military's "Don't Ask, Don't Tell" policy," he's had many witnesses voice disagreement with him. Never, though, has the chairman of the Senate Armed Services Committee been as plainly frustrated as he was on Thursday morning, March 18, during the testimony of retired Marine Corps Gen. John J. Sheehan.
At one point during the hearing, Levin looked directly at Sheehan and ended a line of questioning by telling the former Supreme Allied Commander of the Atlantic, "I think the burden to maintain a discriminatory policy is on the people who maintain the policy – not on the people who want to end it."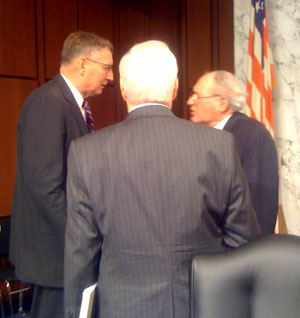 Gen. John J. Sheehan (Ret.), left, speaks with Senate Armed Services Committee Chairman Carl Levin (D-Mich.), right, following a committee hearing on Thursday, March 18, about the "Don't Ask, Don't Tell" policy.
(Photo by Chris Geidner)
That moment came just after Sheehan had declared, "I think the burden has to be on demonstrating that something is going to become better."
Beyond his standard of demanding results before implementation of the policy change, Sheehan used his time at the hearing to blame – in part – openly gay Dutch troops for the massacre of Muslims in Srebrenica, to agree that he had a different standard for gay and lesbian servicemembers than he had for straight ones, and to place the genesis of his 2010 viewpoint about DADT on an alleged same-sex sexual assault that occurred in the "early years of Vietnam."
Counter to his testimony, however, Sheehan served after retiring from the military for several years as a senior vice president with Bechtel Corp. – a company with a robust nondiscrimination policy that includes sexual orientation where he worked until the past year. The company – which claims it is one of the largest government contractors – had more than $2 billion in extensive rebuilding contracts in Iraq from 2003-2006, sending employees into Iraq during times when their employees faced obvious difficulties and dangers.
After the hearing, Sheehan refused to address questions about whether he supported Bechtel's nondiscrimination policy as it applied to employees working on military contracts in Iraq.
Aubrey Sarvis, the executive director of Servicemembers Legal Defense Network, said that Bechtel and others often employ discharged gay and lesbian soldiers.
"That's the irony," Sarvis said. "They are discharged under 'Don't Ask, Don't Tell' and they go back as civilian contractors, often back to the same unit, back in Iraq, serving side by side . . . in the same unit. Bechtel is among those."
Former Air Force Maj. Michael Almy, an SLDN client, was one of two witnesses testifying during the hearing about being discharged under "Don't Ask, Don't Tell." After the hearing, Almy noted, "Since I left the military, I've worked as a defense contractor for about three years . . . and they all have nondiscrimination policies.
"And, a lot of times they have very senior retired military working for these corporations – the general [Sheehan] as an example," Almy said. "I worked on some projects for the Pentagon as a contractor and ran into some of my peers that I had known as a military officer."
Sheehan, however, made clear his discomfort with the entire concept of gay and lesbian soldiers from the outset of the hearing.
As part of his opening statement – before the senators' questions that led to some of the more heated exchanges – Sheehan laid out his views quite clearly, saying, "Make no mistake, this is not about consideration being given to someone who wants to serve in the military despite being attracted to the same sex.
"This particular argument has to do with some folks' supposed right to declare oneself sexually attracted to a particular segment of the population and insist on continuing to live in the most intimate proximity with them."
Sheehan testified that the "Don't Ask, Don't Tell" policy "reinforces the critical maxim that first and foremost, you are a soldier, sailor, airman or Marine. Your preferences and desires are not relevant. … The question under review is whether the behavior of a person who openly declares his sexual attraction to the same sex directly or indirectly contributes" to the degradation of unit cohesion.
Sheehan concluded his opening by telling the committee, "Warfare is difficult, ugly business. Congress should not impose more uncertainty on the battlefield that is already complex enough."
The idea that Sheehan advanced, that "preferences and desires are not relevant" to the Armed Forces, was illustrated in a very different way by former Navy Lt. j.g. Jenny Kopfstein, the third and final witness at the hearing.
Kopfstein, a client of SLDN, testified about how she was taken aside by her captain specifically to invite her to bring the guest of her choice to a cocktail party the captain was hosting. Her discharge already was in process at the time, and she brought her partner, a female, to the reception, where Kopfstein said they were "the life of the party."
The comments from Sheehan got only more heated and antagonistic to the idea of repealing "Don't Ask, Don't Tell" when they were coming in response to questions from the senators on the committee.
When asked by Levin about foreign military forces and openly gay service, Sheehan raised an allegation – quickly disputed – that a foreign military force has had problems with allowing openly gay troops. Sheehan responded by discussing the Dutch failure to secure Srebrenica that led to the Bosnian Serb massacre of Muslims there, prompting Levin to interject, "Did the Dutch leaders tell you it was because there were gay soldiers there?"
Sheehan began, "It was a combination –"
Levin cut him off, asking, "Did they tell you that, that's my question."
"Yes, they included that as part of the problem," Sheehan replied.
Levin's office, however, released a statement Thursday evening from Renée Jones-Bos, the Dutch ambassador to the U.S, who flatly rejected the claim.
"The military mission of Dutch UN soldiers at Srebrenica has been exhaustively studied and evaluated, nationally and internationally," Jones-Bos said in the statement. "There is nothing in these reports that suggests any relationship between gays serving in the military and the mass murder of Bosnian Muslims."
At the hearing, Levin picked up on language used by Sheehan that suggested gay and lesbian servicemembers were seeking "special accommodations" by seeking to be allowed to serve openly. Levin pointedly asked Sheehan of heterosexual soldiers, "Are they allowed to say that they're straight? Are they allowed to say that?" When Sheehan replied that they were, Levin shot back, "Is that special accommodation to them?"
Sheehan replied that it was not.
When Sen. John McCain (R-Ariz.) was given the opportunity to question the witnesses, he took the time to allow Sheehan to explain his opposition to changing the policy more fully.
Sheehan started off by saying, "Senator, in my experience, homosexual Marines create problems on the battlefield." What followed was an extraordinary use of one decades-old anecdote to justify an entire policy preference.
Recalling the "early years of Vietnam," Sheehan said, "The intelligence was that the North Vietnamese were going to attack that night. . . . About 1 o'clock in the morning, a fight broke out in a foxhole because a young Marine was being molested by his squad leader."
Sheehan went on to describe how the squad leader denied the assault had happened, how some servicemembers believed each party, and how, "Within three days, that unit divided down the middle."
After an exchange with McCain in which Sheehan said of his view that "you could say I'm some old guy," and McCain interjected, "You're not the only one," Sheehan went on to describe his review of military sexual assault reports, which he said describe "an overall, 11 percent rise in sexual assault in the military."
From there, Sheehan focused only on the male-on-male sexual assaults – "where rape and sodomy took place" – which he said were seven percent of the total sexual assault cases.
Sen. Joseph Lieberman (I-Conn.), who questioned the witnesses next, quickly picked up on that number, noting, "By your numbers . . . 93 percent were heterosexual."
Almy, discharged for being gay, told Lieberman, "There's no place in the military today" for assaults, agreeing with the senator that such actions would be dealt with the same with same-sex assaults as they are dealt with as to opposite-sex assaults.
The last sparks of the hearing came when Sen. Roland Burris (D-Ill.) asked Sheehan if he'd ever overseen black servicemembers in any of his units. Sheehan raised his voice slightly, responding that he has "never commanded a unit without Hispanics, Blacks, Whites and Orientals."