It's one thing to know than you can get married. It's another thing to actually do it.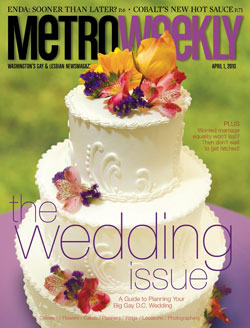 Now that marriage equality is the law of the land in the nation's capital, gay and lesbian couples are free to tie the knot the same as their straight friends and families. But now that you have your marriage license in hand, what comes next?
Everything, in fact, comes next.
Caterers. Photographers. Rings. Cakes. Venues.
It can all be confusing, but with the right help it doesn't have to be. In the following pages you'll find the advice, tips and (occasional) tricks that will help you plan the wedding of your dreams. Included here is a full listing of all the businesses and individuals mentioned in each article.
And as you walk down the aisle, you may be taking a step forward for equality, but never forget that your taking a step into your future – together.