On Monday, March 29, the U.S. Attorney's Office in Philadelphia announced that Norman Leboon was being charged with two counts of threatening to kill Rep. Eric Cantor (R-Va.) and his family. Comments left at the Queerty and Huffington Post websites in December 2008 and videos posted at YouTube as recently as this month, which evidence suggests are from Leboon, suggest that he identifies as gay and has a partner and two children.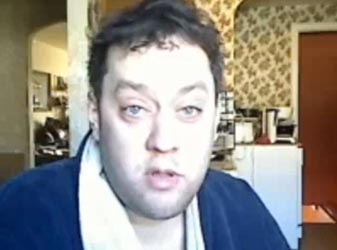 Screenshot of Norman Leboon taken from YouTube
Leboon, who the U.S. Attorney's Office announced lives in Philadelphia, faces the charges because of a video he posted to YouTube. According to the affidavit filed with the charges by FBI Special Agent David Carter, Leboon said in the video that Cantor "receive[s] my bullets in your office, remember they will be placed in your heads."
On Dec. 25, 2008, however, a person posting at Queerty as Norman Leboon Sr., commented in response to a post titled, "Rick Warren's Web Site Ditches Gay Damnation," the following:
"We gays and Lesbians WILL NOT lay down anymore! To all in our family we MUST continue to speak out and NEVER have the Rick Warren's [sic] take our rights away!
"Also, thank you, Mr. President Obama elect, if Mr. Rick Warren spoke out against woman, blacks or Jews as he does with us (gays) would he be making the Prayers for you at the White House???"
The post is signed "Norman LeBoon SR, Philadelphila, Pa USA." The comment links back to a WordPress website — http://leboon1653.wordpress.com/ — that contains a message from WordPress, "The authors have deleted this blog. The content is no longer available." The favicon – the image you see next to bookmarks on your Web browser – for the site remains and appears to be the person identified at Talking Points Memo as Leboon.
An attempt to access a YouTube account with the same user name, leboon1653, prompts a response, "This account is suspended." A user account of the same name, however, remained active on Monday afternoon at the Metacafe website featuring videos of the person identified at Talking Points Memo as Leboon.
The person who has posted videos on the Metacafe user account posted a video at another YouTube channel – shiamuslimcantbestop – on March 1, 2010, titled, "ALL gays and lesbians in the Armed Forces."
In the video, he said, "So, in a nutshell, I do not want my children, my gays and lesbians, to serve in the war zones as of now, because very, very shortly . . . I am going to destroy every man and woman that serves in the Armed Forces because the leaders do not listen to me. I am the messiah. . . . They do not listen."
The video is the most recent video posted to the account, which he concludes by telling the gays and lesbians serving to "turn yourself in, your guns, your uniforms." Referring to such soldiers serving in America or in several countries abroad, he said, "I don't want you serving these beasts, these filthy fucking pigs, because these leaders are going to be dead, all of them, for defying my son."
A few days before the Queerty comment, on December 19, 2008, a person posting from the account NLEBOON1653 at The Huffington Post wrote, "As a GAY-MUSLIM with two children, and a partner for 15 years this Obama is another BS crap that I fell for! I gave him $$$over a thousand dollars and worked door to to [sic] door with my disability (MS) for Obama, and Rick Warren gets to have dinner at the White house… And, yet Rick Warren will be on the ticket for 2012 as Obama never learns with his Pasters [sic]! 'Warren is wants power'… Again, gays are 2nd class!!!"
According to the OpenSecrets campaign finance website, a Norman Leboon of Philadelphia contributed $505 to Obama's campaign in June 2008. OpenSecrets reports that contributor Leboon listed his occupation as "Disabilied [sic]/Retired," further corroborating the conclusion that the person posting at these sites is the man charged today with threatening to kill Canto r.
The affidavit claims that the full threat to Cantor in the video is: "You are a liar, you're a Lucifer, you're a pig, a greedy fucking pig, you're an abomination, you receive my bullets in your office, remember they will be placed in your heads. You and your children are Lucifer's abominations."
Leboon, according to the affidavit, referred to Cantor's wife in the video as "your cupcake evil wife" and told FBI agents that "he had made over 2,000 videos in which he made threats."