In keeping with its mission to stage vintage treasures, The American Century Theater brings us Donald Bevan's and Edmund Trzcinski's Stalag 17 in its original incarnation, before the edges were softened for the moviegoing public by Hollywood's Billy Wilder. A precursor and influence to such WWII movies as The Great Escape and the likes of TV's Hogan's Heroes, this is the story of a group of American servicemen POWs held in a German camp. Seen exclusively from the perspective of the prisoners' barracks, the focus is on life in close, stressful quarters and the dramatic shifts that begin to occur as the men realize that one among them is a traitor. Though it resonates with the literary style of its time and is (charmingly) dated by some language and references, it's nevertheless a very engaging, often intense play with a steady undercurrent of gallows humor.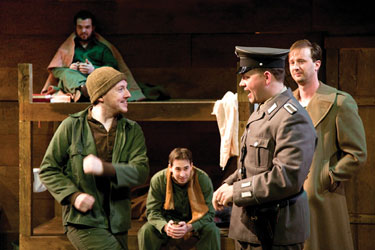 Edgy 17: banter and brooding in the barracks
(Photo by Dennis Deloria)
Of course, it's not easy to breathe life into a historical moment, particularly one that's been immortalized on the big and small screens, but between the deeply committed ensemble and the carefully crafted mood, one is immediately transported to Bevan and Trzcinski's unique space in time. And although the hardships depicted are somewhat quaint compared to what we now consider the POW reality, there are still enough allusions to genuine danger — the isolation hole that has already driven one prisoner mad; the recent death of escapees — to ramp up the sense of captivity. And this sense is crucial, for the drama in Stalag 17 is more about the pressures on the internal social system the American men confront than it is about their relationship to the Germans. Indeed, right off the bat we see that the men have been adjudged their places in the internal hierarchy, with Sefton marginalized for his willingness to trade with the guards for food and his criminal past as a civilian. Sefton becomes the catalyst for much of the ensuing drama as the men try to find the traitor in their midst.
In a generally strong cast, particularly well-defined are Donald L. Osborne as Harry Shapiro, the canny barracks clown; Steve Lebens as Reed, the actor-turned airman; and James Finley as Dunbar, the Boston blue blood. Osborne acts with a pleasing fluidity and nicely indulges the retro language without ever dipping into caricature. Lebens also brings good voice to the actorly Reed, crafting him with a finesse that makes him both evocative of the time and yet credible. Finley gives a nicely understated performance with a quiet intensity that draws on the more serious undertones in the piece.
Also effective is Bill Gordon as Hoffy, the barracks chief, who serves as a solid anchor to the ensemble when he's onstage, capturing the no-nonsense man with color and energy. Corporal Shultz, the somewhat conflicted German with day-to-day control of the barracks, is played convincingly and with dimension by Hans Dettmar. In smaller roles – but the kind that give a play its essential color and quality – are the irrepressible Jay Hardee as Marko and Karl Bittner as the appropriately restrained but disturbing SS Captain (who also offers some convincing German for those of us who don't know any better).
STALAG 17



To April 17
American Century Theater
Gunston Arts
2700 S. Lang St.
Arlington
703-998-4555
americancentury.org
Harder to gauge, though nevertheless compelling, are Tony Bullock as Sefton, the outsider, and John Stange as Stosh, the man convinced that Sefton is the one passing information to the Germans. Bullock is a quite mesmerizing stage presence, but it is rather hard to see him as a criminal. He sounds, looks and presents as far too cultivated (and if Sefton is meant to be cultivated, this didn't come out). Bullock also tends to appear emotionally inert at moments of dramatic tension which works some but not all of the time. And though Stange has the down-market accent that one would expect of his station, he slightly overplays Stosh, dampening his effectiveness and reach.
Rivals need as much chemistry as lovers to be interesting, and Bullock and Stange create more frisson at large than they do with each other. Still, even though their tension together does not always work, they do offer enough credible energy to keep things vibrant and moving.
And credit is due director William Aitken who keeps the very large ensemble as a whole interacting at pace and with clarity, with only the occasional moment slightly out of focus. Mention must also be made of sound designer Ian Armstrong, who delivers many wistful and melancholy moments amid the segues.