Your Uncle Sal is a great guy — maybe he's even a great photographer. But you should think long and hard before making him your official wedding snapper. It's often best to go with a paid professional.
"Typically we're more sober by the end of the event," laughs David Fletcher of Washington's Best Musicians, Photo & Video. Fletcher adds that a professional is more adept at photo editing and assembling an image CD or DVD, which could cause your Uncle Sal a lot of stress and time.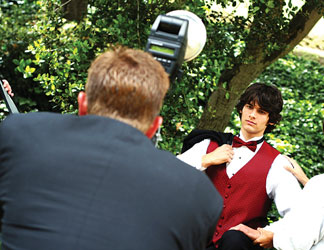 (Photo by Kevin Russ)
Ward Morrison of wardpix.com – also known as Metro Weekly's ubiquitous Scene photographer – points out that a dispassionate professional might pick up things to photograph that your uncle, in the heat of the moment, would miss. And if you do go with a professional, it's best to make sure you like them.
"Unlike the caterer or the florist, a wedding photographer is going to be with you your entire wedding day," says Kelly Prizel of Kelly Prizel Photography. "So you're going to want to really connect with them."
"Wedding photography is a combination of…event photography and portraiture," adds photographer Robert Dodge. The focus should really be on telling the story of your big day, from getting ready to the last dance — not just the ceremony itself.
Dodge recommends looking over a photographer's portfolio of portraitures and weddings to determine whether his or her style fits what you're looking for. Prizel says to specifically look for pictures of LGBT couples — and also that both partners in a couple are represented equally. With straight couples, even in 2010, "there is a huge emphasis on the bride in pictures, and the groom kind of fades into the background," says Prizel. Oftentimes this "old habit" carries over with queer couples, according to Prizel, so that the focus is on the more femme or effeminate partner.
Hiring a professional photographer doesn't have to be expensive, but prices are all over the map: Fletcher's standard rate is $750 for photography and $500 for videography; Morrison is flexible, but his standard rate is $250 an hour for weddings; Dodge offers an engagement portrait for $395 or a full-blown, two-photographer package at $6,200; and Prizel says her cost is upwards of $2,500.
Prizel says that photography/videography "fusion" is a big trend in the industry right now, with a head photographer and an assistant videographer shooting video clips throughout the day, and then putting it all together in a slide show that includes stills and videos set to music.