Diamonds are forever.
But the monthly payments don't have to be, given both online and in-store options that can be tailored to fit your needs.
If you're starting from scratch and don't know what's right for you and yours, Jonathan Mervis of Mervis Diamond Importers has an easy-to-follow suggestion: "Simply try on a lot of different styles and see what jumps out at you."
Among the first questions Mervis suggests is choosing between diamonds and metal for your band. But what's important for your wedding is up to you.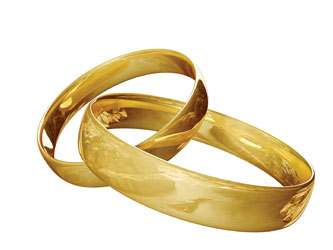 (Photo by Martin McCarthy)
"There's no right or wrong way to shop for wedding rings."
At Mervis stores in metropolitan Washington, engagement rings start at about $2,000. Wedding bands range in price from $800 to $3,000.
"We actually have a special line of gay wedding rings for male couples," Mervis says. "It's a fantastic line that is fully customizable. You can do any ring in any metal combination, with or without diamonds."
Mervis wants customers to find the "perfect" ring and experts at the jewelers are trained by the Gemological Institute of America to help do just that.
Other avenues for those seeking something more affordable include the online store Love and Pride.
"Love and Pride is for people who want to express who they are with bold, beautiful and original designs," Udi Behr, chief designer and creative director of the company, says on the company's website loveandpride.com.
Love and Pride features a line of titanium rings, including rainbow bands, promoting "both love of individual style and pride in building a community that is truly diverse and tolerant."
While Pat Kanafa-Wilson from D.C.'s I Gorman Jewelers says they carry no rings specifically made for same-sex couples, the store's selection of stylish and unique bands has attracted a large gay and lesbian clientele.
"All of our rings are special," she says. Steel is currently the most popular band material at I Gorman, and there's even something for leather enthusiasts: a red leather ring, joined by 18k red gold and cognac diamond, and a black leather ring with 18k white gold.
Those seeking something more classic can find a gem at Tiffany's in Tysons Corner, where customers can tie the knot with platinum, gold, white gold and diamonds – though Missy Moran suggests couples come browse through the store's many options, where you're likely to find something to fit your style.
"It really depends on what you're looking for, whether you're traditional, conservative or fashion-forward."