AT THE INTERSECTION of Massachusetts and Nebraska Avenues, in the far northwest reaches of the District, sits a campus hard to beat when it comes to an affirming climate for LGBT students. A resource center? Check. Gender-neutral housing? Available. An S/M 101 workshop led by the DC Boys of Leather? Popular.
"Our policies are LGBT-friendly," confirms Matthew Bruno, program coordinator at American University's GLBTA Resource Center — one of two full-time employees, along with Sara Bendoraitis, center director. "We make sure to include queer content across the board. It's influencing a lot of different aspects of the AU community. It's definitely an LGBT-friendly campus."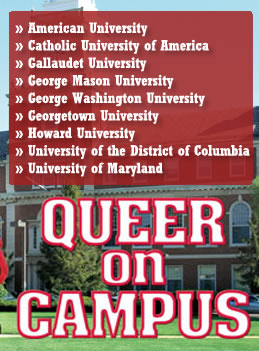 It was an important consideration for Rachel Lachenauer when she was looking at colleges. The 20-year-old sophomore and lesbian from the New York City suburbs chose AU, where she's majoring in women, gender and sexuality studies, along with justice.
"I'm a very opinionated, out-there person," she says. "I needed to be in a space where I wouldn't feel threatened expressing my opinion. It was definitely part of my decision making."
On the AU campus, Lachenauer has more than fit in. She is one of the student staff of the resource center, as well as the executive director of the student group AU Queers and Allies. This primary campus group also includes three subgroups: the Lambda Graduate Group, Queer People of Color, and the Trans Advocacy Project.
"We have over 650 people on our listserv. Because we're such a large group, we can get funding and we can put on very large events," she says of the group, pointing to the aforementioned annual SM 101 workshop and other events the group sponsors. "All of these will attract 300 or so people."
If there is any shortcoming, Clare Shepherd, a 22-year-old journalism major — and past Metro Weekly intern — who will graduate in May, says most of the LGBT offerings on campus are geared to newer students. She also figures it's much easier to spot gay male students on campus than lesbians. But even Shepherd grants that the AU campus is about as LGBT-affirming as they come. "Even the drunken frat brothers are pretty gay-friendly," she says. "If you want to be really active in campus LGBT life, AU is a really great place."
For the curious queer student who may want a closer look, Bruno points to the Spectrum Project.
"We match prospective students to LGBT AU students," he explains. "It might be an e-mail, or it might be a campus tour. We can help facilitate that."'
To learn more about the AU GLBTA Resource Center, call 202-885-3347 or visit american.edu/ocl/glbta. For more about AU Queers and Allies, visit auqueersandallies.org.