The Next Generation Awards 2010
When Andrew Barnett headed out to earn his bachelor's degree, the Alexandria native got about as far away as he could within the "lower 48." He traveled more than 3,000 miles from home to Olympia, Wash., studying English at the highly bohemian Evergreen State College.
But rather than begin his professional life in the West Coast's Washington, he succumbed to D.C.'s socially aware siren call.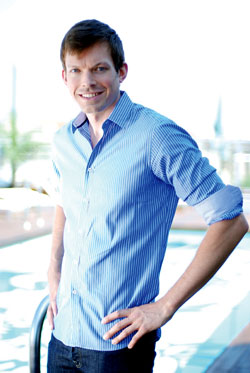 Andrew Barnett
He recalled that crossroads in his August 2009 cover interview with Metro Weekly.
"By the time I graduated, I had decided that I really wanted to dedicate my professional career to serving the LGBT community. I really like that part of the country, but I realized that a lot of the big national organizations are here in D.C. The plan was to come back and get involved in the LGBT community."
And that's just what he did, immediately volunteering for the Sexual Minority Youth Assistance League, better known by its happy acronym, SMYAL, on Capitol Hill. In early 2009, he officially filled the organization's top spot as executive director — a job he'd been doing since mid-2008.
"On Sunday, it will be five years to the day since I moved back to D.C. – with lofty goals of making the community better," Barnett said, somewhat playfully, just prior to his April 25 anniversary. Despite the hint of self-mockery, the 27-year-old genuinely hopes to make the community better. Primarily, he does it for those LGBTQ youth he serves daily at SMYAL, whose mission during its nearly 26 years has been to "promote and support self-confident, healthy, productive lives for LGBTQ youth ages 13 [to] 21 as they journey from adolescence into adulthood."
That's what makes being presented with a Next Generation Award a milestone for Barnett. He's been honored by the Washington Mystics as a "Hometown Hero," but this is his first to come from the LGBT community specifically.
"I've not really received anything like this before," says Barnett. "And it's the first award from an organization specific to the LGBT community, so it really does mean a great deal to me. I didn't know that I'd been nominated, so it was a surprise. I really appreciate the recognition. There are a lot of great folks in the community under 30, so it's really an honor."
Barnett adds that looking at his Next Generation Award predecessors from last year — Eboné Bell, Linh Hoang, José Ramirez and Brian Watson — underscores the award's significance.
"I know all of them," he says. "I met Eboné after she won last year. I had met Linh years ago. I know José and Brian from working with La Clinica del Pueblo and Wanda Alston House. Needless to say, I respect all of them a great deal."
While the Next Generation Award may offer evidence that Barnett's years-ago choice to return to D.C. to make a difference was a good one, where he really hopes the award will make a difference is in the lives of people younger than himself. One way that may happen, he says, is in bringing more attention to SMYAL and the organization's efforts, which could in turn bring more support to SMYAL.
That support may be easy to measure, whether it's donations or volunteers. What young people perceive in this award may be less quantifiable, though that angle seems more valuable to Barnett, guessing that an award specifically for people younger than 30 might have greater resonance with his SMYAL youth.
"Part of it is just the nature of adolescents, who don't necessarily think about tomorrow – or five or 10 years from now. But LGBT youth are told in so many overt and coded ways that they're not as important, that they don't really have a future. Anytime LGBT youth can see LGBT people who are giving back, who are succeeding, that's important.
"In this movement, folks of all different ages have contributions to make. For youth to see that I can make a difference over the course of my life, but that I can also make a contribution now, that's really important."
That's a message he promises to deliver when he speaks at Youth Pride Day, set for Saturday, May 1.
"What's really important for me to communicate to youth is that we have a long way to go in terms of making our community – and entire country – a safe and affirming space for LGBT people. The youth have a role to play in that. The time will come when they step up as leaders to raise awareness and equality for LGBT folks. They'll be leading us one day."
Before today's youth are tomorrow's leaders, coming full circle to his own Next Generation recognition as a young person moving the whole LGBT-equality movement forward, Barnett says their time is today.
"LGBT and ally youth can be advocates right now. They can speak out against derogatory language when they hear it. What I hope to instill in them is that they have a role to play. They're really on the front lines. A lot of them are meeting a lot of resistance, getting a lot of flak, skipping school so they don't get beaten up, getting kicked out of their homes. The movement really needs to hear from young people."